Need to know
What is it? An officially sanctioned competitive sim for the Yu-Gi-Oh! trading card game.
Expect to pay: Free-to-play, probably at least $30-60 USD in microtransactions to build multiple competitive decks
Developer: Konami
Publisher: Konami
Reviewed on: Nvidia GTX 1060, AMD Ryzen 7 3700X, 32GB RAM
Multiplayer: Online 1v1, ranked and casual modes
Link: Steam (opens in new tab) 
Check Amazon (opens in new tab)
Yu-Gi-Oh! (yes, the exclamation point is part of the name, and don't you ever forget it) was at one point nearly as ubiquitous as Pokémon, and has been growing and evolving for over 20 years now. What was once a simple trading card game where you'd summon one monster and set a couple traps now regularly involves ten minute turns during which you summon as many monsters, setting up unbreakable boards of negates only to watch your opponent break them anyways. It's complicated, but hasn't lost the basic appeal of any card game: the agony and ecstasy at the intersection of skill and luck.
After years of exploitative Yu-Gi-Oh! gacha games, buggy efforts at multiplayer, and anime tie-ins that were fun but more targeted at kids, Yu-Gi-Oh! Master Duel has finally dragged that card game into the free-to-play PvP age, and it's done it far more elegantly than anyone could have expected. Master Duel has some of the best production values of any digital card game out there, embodying the spirit of Kazuki Takahashi's iconic manga, its beloved anime, and the physical card game in equal measure. 
The learning curve will be steep for newcomers, and Master Duel's initial 1.0 release doesn't include much of an offering outside of the competitive ladder mode (this seems likely to change in the near future), but it's still one of the best digital card games available today. The good night's sleeps I've sacrificed are a testament to that.
The second-to-last duel
As long as you've got at least one life point left and a card to get your combo going, you're still in the game.
Consider this recent experience: It's 2:33 am, and I'm on the verge of defeat. After making my way up to Platinum IV on the Master Duel ladder with relative ease, I got cocky and ditched the competitively viable deck I built to try one of my goofier, less-practical 60 card builds (the typical competitive deck is 40 cards). I'm deep in the hole, down to my last 800 life points after paying half of them on a graveyard effect that my opponent stopped with a well-timed effect negation, leaving my board close to empty.
If I lose, I'll drop down to Gold rank. That means winning four to five games just to get back to where I am, a cycle that filled my evenings since Master Duel unexpectedly dropped in the middle of a January night.
After a slightly agonizing wait as my opponent sets up their back row of spells and traps, with multiple pauses where a blinking Wi-Fi icon indicates connection issues on their end, it's my last chance to save myself. I channel my inner anime protagonist and count on the heart of the cards for the top-deck I need. The sleek draw animation unfurls, and there it is, the card my whole deck is built around: That Grass Looks Greener.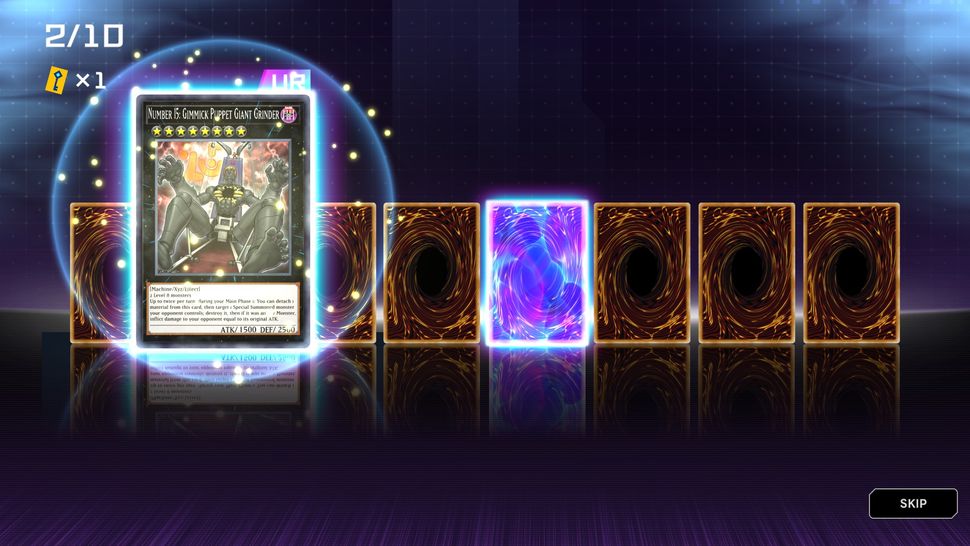 (Image credit: Konami)
If you've ever wanted to learn a TCG, this might be the best way to do it with minimal up-front investment.
As for the actual deck building itself, it works very well. There are unfortunately no options to sort by card effects, as is the case in both Duel Links and in most fan-made sims, it's otherwise another well-designed user experience with lots of sorting options. You can copy public decks from others and customize them or draw inspiration from them, a really useful feature for learning new archetypes and strategies. It also allows you to build decks using copies of cards you don't own yet to plan your pack purchases.
If you're a seasoned veteran of the physical Yu-Gi-Oh! card game, you've likely already installed Master Duel. For those with a nostalgic connection to Yu-Gi-Oh!, or digital CCG players who currently enjoy games like Hearthstone or Legends of Runeterra, Master Duel is worth trying.
Yu-Gi-Oh! is unlike any other trading card game in part because of how over-the-top it is, and Master Duel is a lean but polished digitization that card battler, brining over 10,000 cards into a surprisingly accessible package. While it's light on singleplayer entertainment, it offers enough solo instruction to get players into the outstanding competitive game. If you've ever wanted to learn a TCG, this might be the best way to do it with minimal up-front investment.
TODAY'S BEST DEALSCheck Amazon (opens in new tab)