In 2003, I didn't appreciate how good Ray Liotta was in the role of Tommy Vercetti, Vice City's loudmouth protagonist. I did think he was hilarious, but only looking back do I realize how different, and how natural, his performance was compared to the Command & Conquer cutscenes I grew up on. Even 20 years later, Liotta's performance runs circles around the likes of Crime Boss: Rockay City.
Former PC Gamer reviewer Alec Meer didn't quite agree with me, calling Liotta a "so-so" actor (Goodfellas, Alec!? Cop Land?? C'mon!). But context is key. In the early 2000s Liotta was certainly on a streak of so-so movies, and it was really his stand-out performance in 2019's Marriage Story that reinvigorated his career. Meer goes on to highlight the "legendary" Dennis Hopper, also in Vice City, and I think it's safe to say Liotta has since entered that canon, too.
Liotta will always be best-known for Goodfellas, except among a very specific audience—teenagers who played videogames in the early 2000s. Even if Vice City is an unabashed knock-off of Scarface, it was the clear start of Rockstar's ambition to tell Hollywood-caliber mobster stories using real Hollywood actors. No wonder it scored a rare 93% in PC Gamer.
Here's our original review, published in the July 2003 UK issue of PC Gamer magazine.
Need to know
Publisher Rockstar Games
Developer Rockstar North
Price £35
Minimum system PIII 800, 128Mb RAM, 32Mb 3D card
Recommended P4 1.6GHz, 256Mb RAM, 64Mb 3D card
Multiplayer None
Web address www.rockstargames.com/vicecity/pc (opens in new tab)
Release Date Out now
Check Amazon (opens in new tab)
I've been naughty. I've been bad. I've even been evil. I've lied to parents and I've lied to girlfriends. I've stolen, I've threatened, I've cheated. I even once tried to beat up the one boy in the school (probably the nation) smaller and weaker than me with a Tupperware lunchbox full of Dairylea sandwiches.
Now I regret everything and nothing. But in Vice City, at least I have an excuse for being a terrible, horrible person. I see a yellow car—surely the rarest, and in my needy, materialistic world view, therefore the most coveted automobile colour—and I can't help but lightly brush against the door handle as I pass, testing it gently with tremulous, questing fingers, smiling slightly and just… wondering. And I know why. Why I feel the urge to impassively beat to a pulp with her own handbag the woman with the pushchair impeding my progress through WH Smith. And. I. Feel. Good. Because not only can I mercifully go home and safely live out every single violent fantasy that my head has space for on my PC, but now I can do it while hollering in baritone insanity, "THERE'S NOTHING THAT A HUNDRED MEN OR MORE COULD EVER DO. I BLESS THE RAINS DOWN IN AFRICA, GONNA TAKE SOME TIME TO DO THE THINGS WE NEVER HAD."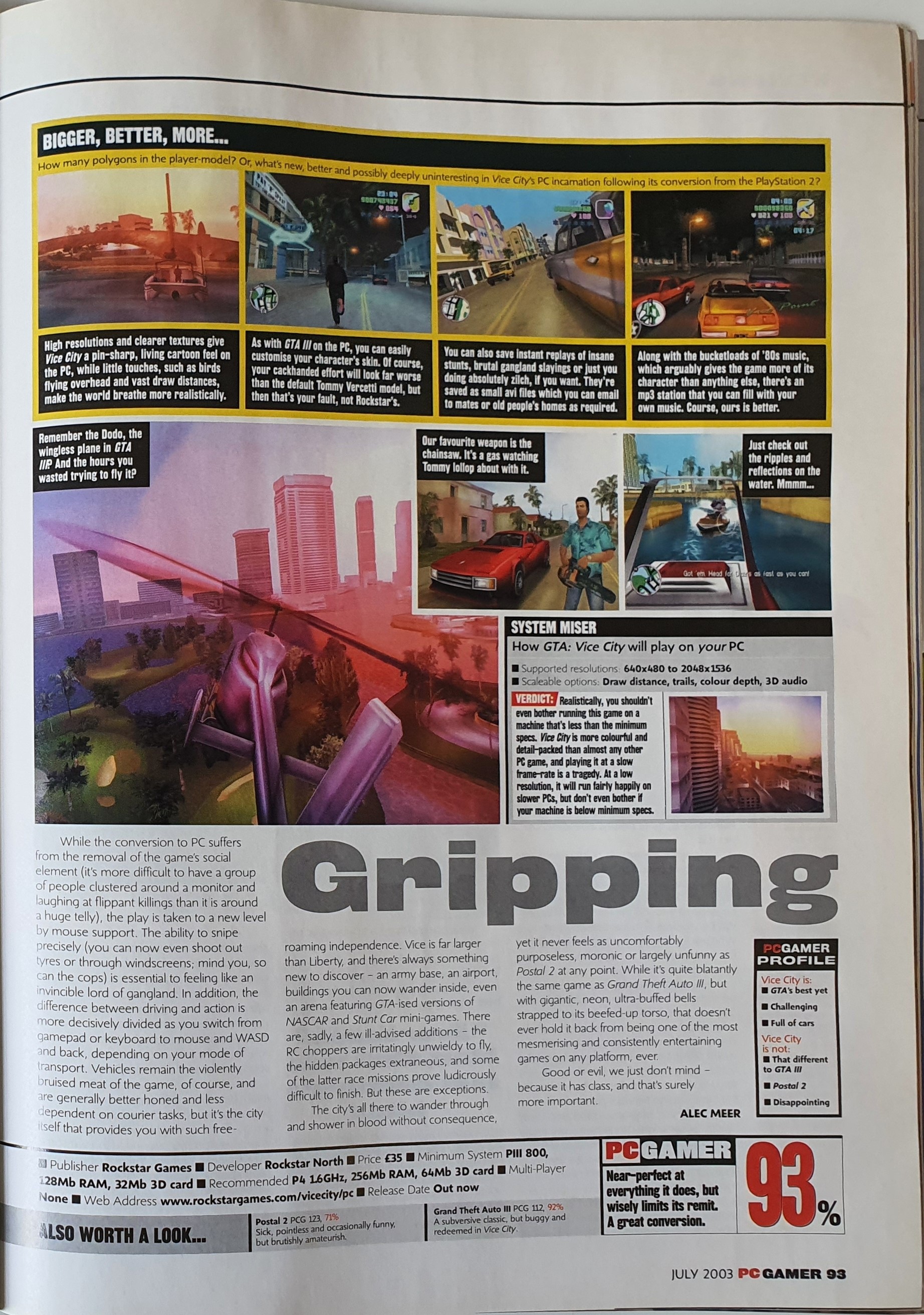 (Image credit: Future)Grand Theft Auto: Vice City: Price Comparison
(opens in new tab)
(opens in new tab)No price information (opens in new tab)Check Amazon (opens in new tab)We check over 250 million products every day for the best pricespowered by