Need to know
What is it? An FPS/survival horror remake of one of the first progenitors to modern immersive sims.
Release date May 30, 2023
Expect to pay $40/£35
Developer Nightdive
Publisher Prime Matter
Reviewed on Ryzen 7 3700X, RTX 4080, 16GB RAM
Steam Deck Unverified
Link Official site
Let me tell you about the one that got away. She was pitiless and cruel, narcissistic and delusional. She unfurled through Citadel Station in a thousand security cameras and as many cyborg slaves, their meat taken from the bodies of the outpost's former staff. She made pustules and blisters, mutants and monsters. She was the death of me a million times over, and I've missed her more than words can say.
She is SHODAN, of course, the malevolent AI goddess who was the centrepiece and proudest creation of 1994's System Shock, now rebuilt in sparkling Unreal Engine 4 in this remake from Nightdive Studios. It suits her. Gone are the sprite-based enemies and screen-eating UI from the original game, replaced by clanking, three-dimensional automatons and an inventory that—while not exactly sleek—is certainly easier to use than the original's rolling shopping list of weapons, explosives, and stimulants.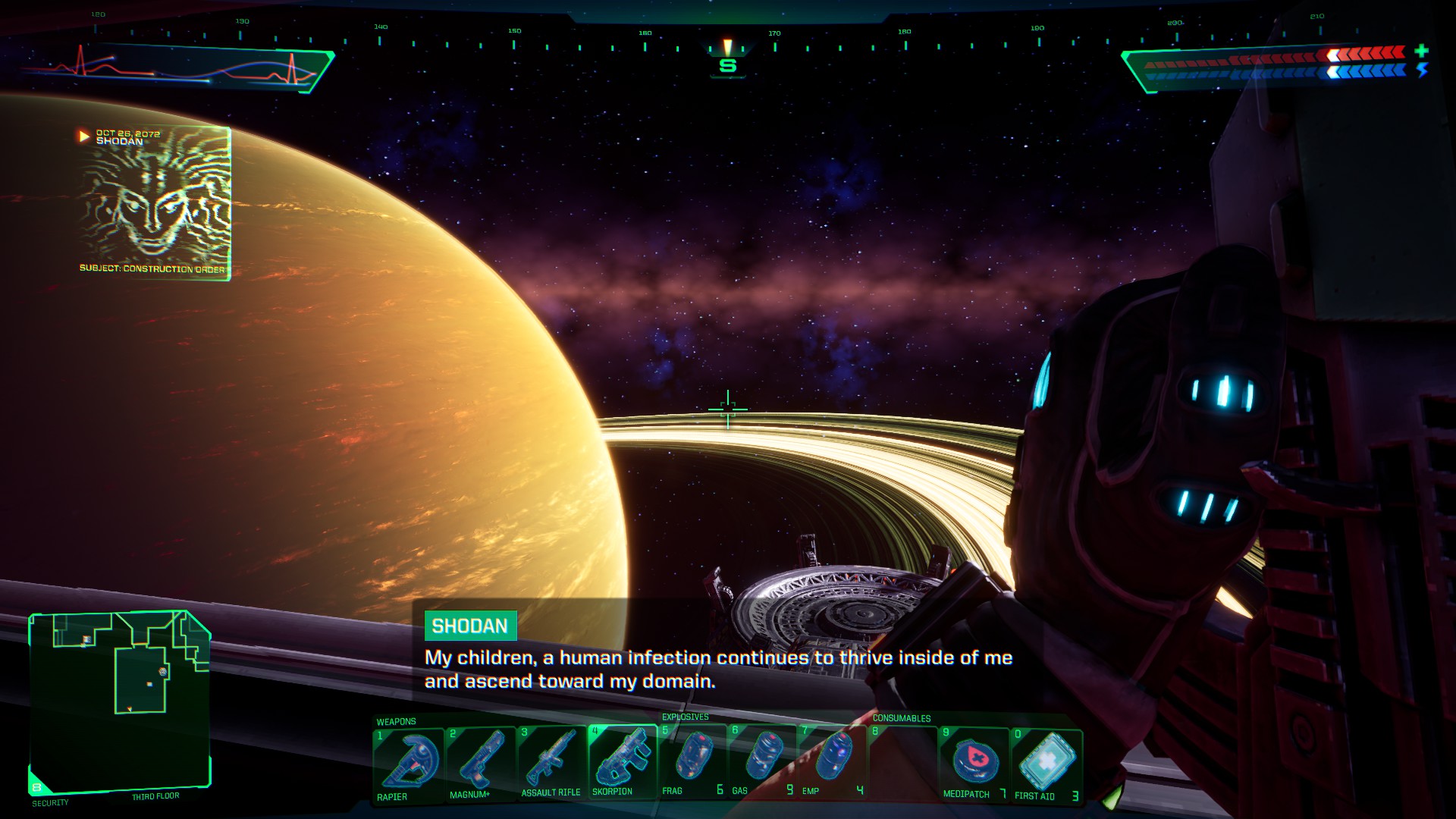 System Shock certainly knows how to put together a striking view. (Image credit: Nightdive)
Immortal machine
Years and years ago, Nightdive's project to remake System Shock was put on hold so that the devs could "reassess" their path. They'd suffered mission creep, it was said, and strayed too far from their original vision of modernising the original game. Those new ideas ate up an already limited budget and risked angering Kickstarter backers who, more than anything, just wanted a modern recreation of a beloved classic.
Well they got it, and you know what? It's great. This is, I feel confident saying, the definitive way to play System Shock in 2023 and beyond, but I can't help but wonder what that other world looks like. The one where Nightdive had the budget and the goodwill to take a few more risks, make a few more changes, and dramatically reduce the number of times it asked me to make a U-turn.
System Shock: Price Comparison
No price informationCheck AmazonWe check over 250 million products every day for the best pricespowered by