Here are a few memorable things I've done across the Milky Way over the past two weeks: 
Scanned 250 planets, walked on over 100 of them, went swimming on one of them, died of hypothermia almost instantly
Docked with 25 space stations and blew up more than 50 ships (stole a few, too)
Smuggled human organs and illegal religious texts
Got immediately arrested for smuggling human organs and illegal religious texts
Listened to my father tell me he was proud of me, right before he handed me a gun
Worked for a crime boss, pickpocketed his door key, and did crimes all over his house
Got married to my soulmate while a giant space slug randomly slithered over to me and made disgusting slurping noises at my feet. (That's the risk of outdoor weddings on muddy alien planets, I guess.)
The more I've played Starfield, the more I've liked it, and for the same reasons I enjoy Bethesda's other RPG sandboxes. The fun collision between structured quests and unpredictable systems creates moments that feel more personal and memorable than those of many other games.
Need to know
What is it? Bethesda's long-awaited, huge honkin' space RPG
Expect to pay: $70/£60
Developer: Bethesda Game Studios
Publisher: Bethesda Softworks
Reviewed on: Intel i7-9700K, RTX 4070 Ti, 16GB RAM
Multiplayer? Heck no.
Link: Official site
$4.99View at Amazon$69.99View at Best Buy$69.99View at WalmartSee all prices (13 found)
It took me a while to find that fun, though. Starfield's introduction is unusually straightforward for a Bethesda RPG, and the first handful of places you visit, including the game's capital city of New Atlantis, are pretty dull. It took about a dozen hours before I started really enjoying it, but after rolling credits on the main quest with one character and ignoring that quest to become an aspiring drug kingpin with another, I can finally say that, in the end, I like Starfield.
But I don't love Starfield. And that's genuinely disappointing because with the exception of Fallout 76, I've loved each of Bethesda's RPGs since 2006's Oblivion. I've spent hundreds of hours in those games and still invent new excuses just to spend more time in their worlds, like roleplaying an NPC in Skyrim for weeks and seeing how long I could play Fallout 4 without leaving the starting settlement of Sanctuary. 
Starfield is Bethesda's biggest RPG ever, and it shares even more DNA with Skyrim and Fallout 4 than I expected—but it ultimately falls far short of the greatness of both of those games. The main companions lack personality, quests that have promising starts frequently come to disappointing conclusions, and space exploration fails to feel like a grand adventure. I liked a lot of what I experienced in Starfield, and it's as huge as promised, but it's not the epic space adventure I was hoping for.
Slow liftoff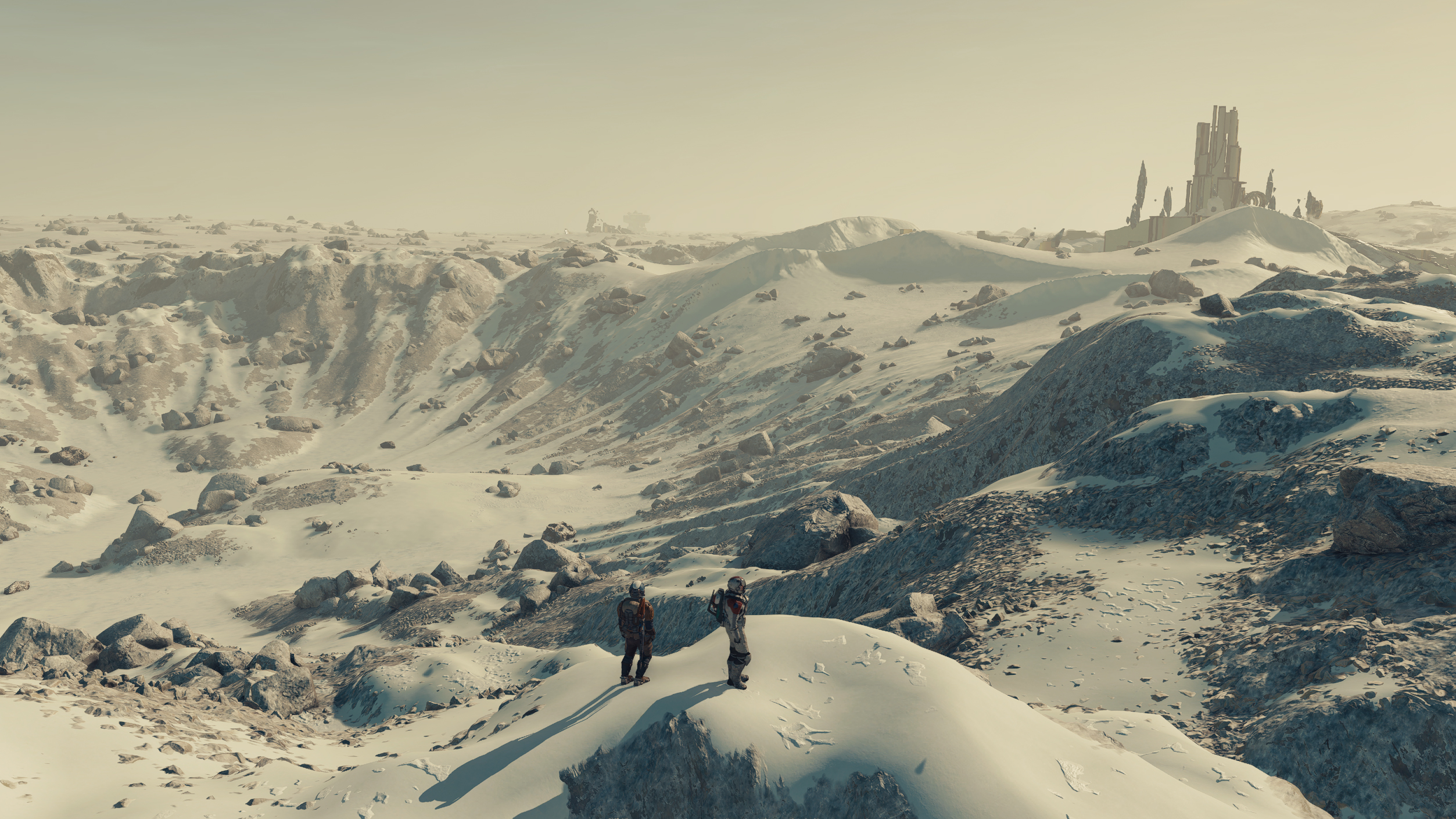 (Image credit: Bethesda)
After all the hype and hope and anticipation, I'm disappointed to say I don't love Starfield the way I love other Bethesda RPGs. It's similar in a lot of ways, but Starfield never feels as instantly engrossing and transporting as Oblivion or Skyrim or as wild and weird as the Fallout games. 
It comes close on occasion: one settlement on a far-flung planet is right up there with the most entertaining Vault-Tec experiments of all time. But more often the promising premises I found in remote bases or mysterious space stations tended to fizzle out. Starfield's alien bugs, even the truly monstrous ones, don't hold a candle to Skyrim's menagerie of beasts, faction quests never match the intrigue and brilliance of Oblivion's guild quests, and though Starfield's "spacers" and Fallout's raiders probably share the same basic code (attack player on sight) they just don't have as much personality.
So, I don't love Starfield, but I'm happy to say that I do like it. Those first 90 hours I played were far from perfect, but I've got plenty of reasons to play 90 more.
Starfield: Price Comparison
$4.99View
$77.09$57.79View
$69.99View
$69.99View
$69.99ViewShow More DealsWe check over 250 million products every day for the best pricespowered by