Need To Know
What is it?  A light open world RPG set in an expansive Moebius-inspired desert.
Expect to pay £20/$25
Release date September 23, 2021
Developer Shedworks
Publisher Raw Fury
Reviewed on  RTX 2070, 16GB RAM, AMD Ryzen 5 3600
Multiplayer? No
Link Official site (opens in new tab)
Check Amazon (opens in new tab)
Every part of my bike tells a story. Stabilisers powered by crystals foraged from a storm-swept plateau; the hood a slick piece of kit picked up in the markets at Eccria; a pristine, ancient engine scavenged from a spaceship older than history. It handles like a dream, but it's also a living record—one I can imagine my Sable looking at fondly even when her adventures are a distant memory, and a thick layer of dust covers the old bike's chassis.
A stunning debut from developer Shedworks, Sable is an open world RPG styled heavily after The Legend of Zelda: Breath of the Wild. In fact, Sable carries a lot of Zelda's influence—from the stamina bar and free-climbing, to a passing similarity in musical cues. But Shedworks has pointedly rejected combat in its entirety, with a story that ignores traditional fantasy adventure. Sable isn't here to save the world. She's just having the gap year of a lifetime.
Soaring, flying
Among the people of Midden, there's a rite of passage known as The Gliding. Leaving home and family behind, adolescents head out into the world to take time for themselves, figure out what they want to be, literally trying on new faces in the form of masks before returning home to live out their new-found role in society. As Sable approaches her gliding, this ritual provides the blueprint for the rest of the game, as you travel across the deserts doing odd-jobs for strangers and earning badges to turn into new masks.
An hour-long tutorial with your clan, the Ibexii,  introduces you to the two most essential pieces of kit for your travels: a gliding stone which, once activated, lets you float near-indefinitely in a protective bubble (though there's no fall damage penalty for hurling yourself off cliffs), and your bike, which you assemble from scavenged parts across the valley. Returning from the ceremony to obtain your mask, you find your clan of nomads has moved on—leaving just you and your bike facing a grand open desert.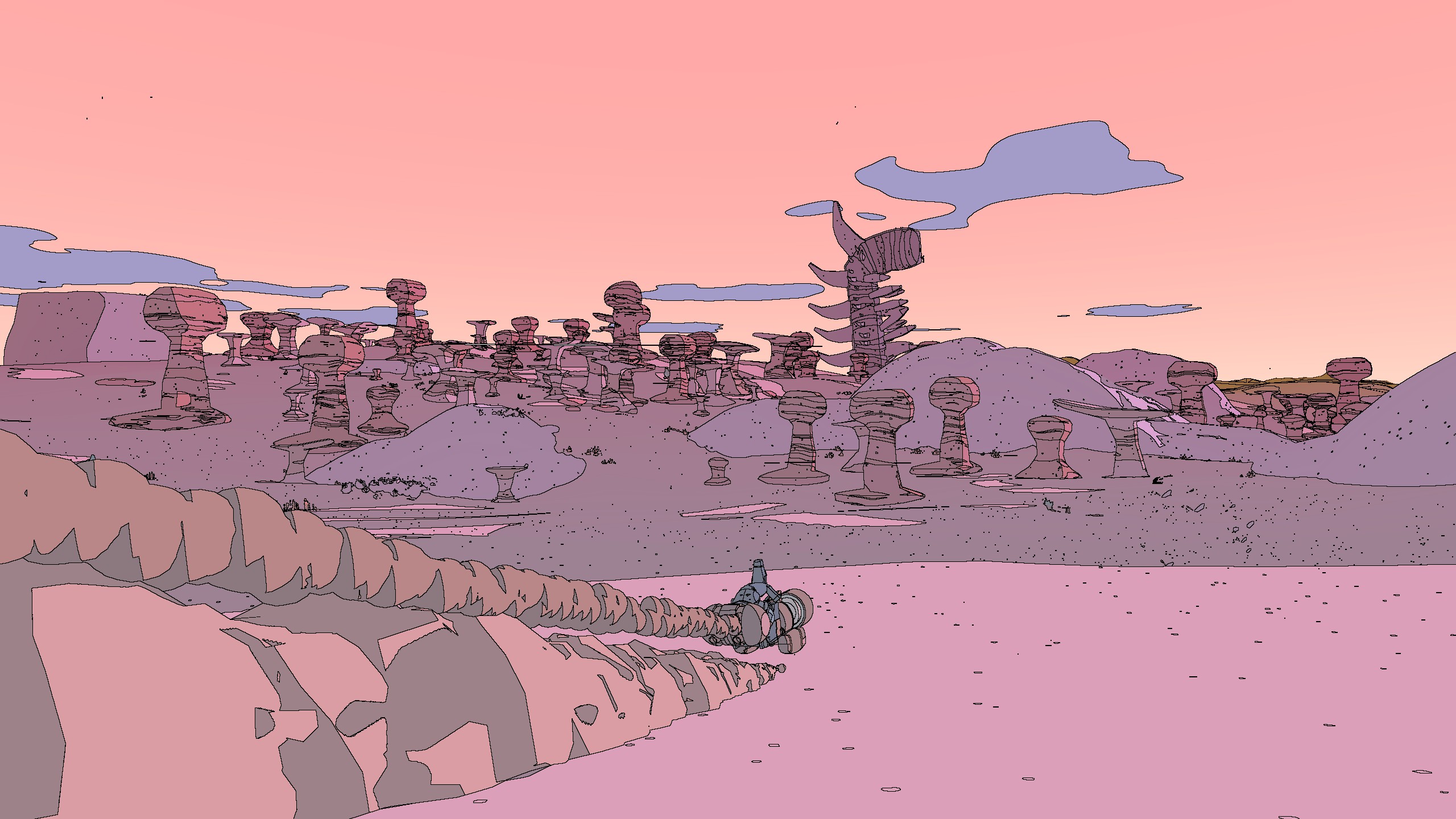 Make a right at the giant worm. (Image credit: Shedworks)
Even RPG conventions like trying on new clothes and choosing how you talk to people feed into this theme. My Sable has quite literally tried on many faces, from supernatural trickster to starship spelunker, figuring out what bike works for her through a long process of trial and error. There is fast travel in the game, but I strongly urge against using it when so much of the game is about the distances between—letting you reflect on where you've been and anticipate where you're heading next, as you bond with the engine humming gently beneath you.
Before setting off on your journey, your clan-mate Hilal gives you a key piece of advice alongside your magic gliding bubble: "Try to have fun. There's a lot to be said about ritual and independence and all of that out there, but the world's an easier place if you put joy first".
That's Sable, to me. There are ruins to explore, people to meet, errands to run and all sorts of nick-nacks to collect. But if you just want to relax to some Japanese Breakfast melodies while riding a hoverbike across a pastel desert, that's quite alright too.
TODAY'S BEST DEALSCheck Amazon (opens in new tab)