Need to know
What is it? A first-person survival horror game.
Expect to pay £50/$60
Developer Capcom
Publisher In-house
Reviewed on RTX 2080 Super, Intel i7-9700K, 16GB RAM
Multiplayer Being added later
Link Official site (opens in new tab)
$27.83 (opens in new tab)View at Amazon (opens in new tab)$39.99 (opens in new tab)View at Adorama (opens in new tab)$59.99 (opens in new tab)View at GamersGate (opens in new tab)See all prices (17 found)
Resident Evil Village begins with a scene of domestic bliss, as our hero Ethan Winters (returning from Resident Evil 7) and his wife Mia prepare dinner and look after their newborn baby, Rosemary. Then something bad happens—I won't say what, because it's pretty shocking—and soon Ethan finds himself lost in an isolated village in a snowstorm, searching for his kidnapped child. It's a sharp, sudden intro, but an effective one, immediately setting the stakes high and establishing Village's brutal, sadistic tone.
It's never explicitly stated where the village the game takes its name from is located, but a few clues point towards it being nestled somewhere in the wintry mountains of Romania. The village itself is a scrappy, ramshackle scattering of wood and brick houses, farmer's fields, and the occasional church. Over it looms a gothic castle with immense spires stretching into the mist, and there are also traces of ancient ruins, suggesting a long and strange history. It's a magnificent setting, dripping with atmosphere, menace, and mystery—and a place I wanted to explore every dark, dingy corner of.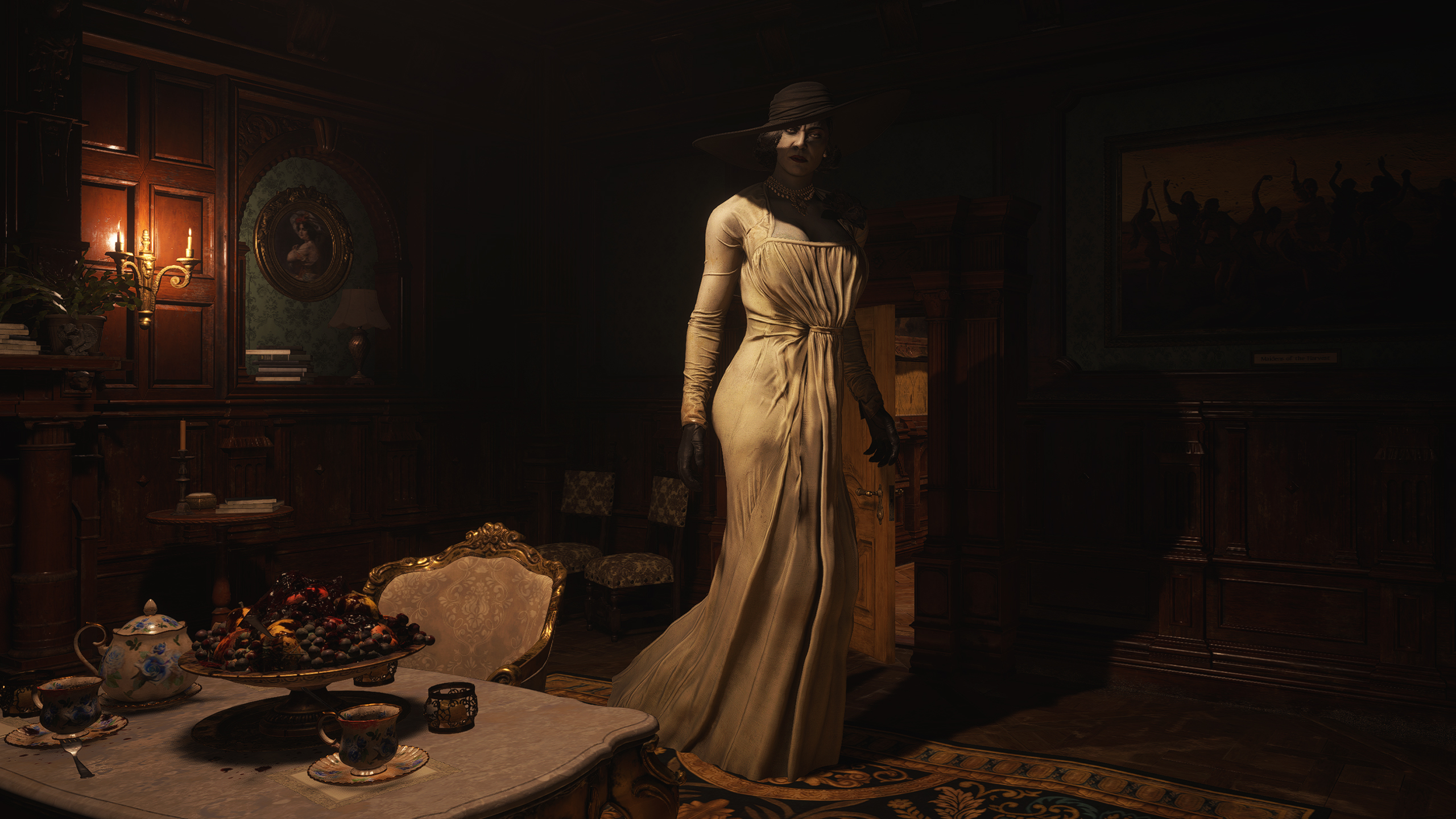 (Image credit: Capcom)
Finishing the story unlocks a store where you can purchase a selection of extras with an in-game currency earned by unlocking achievements. These include a return of The Mercenaries, a fan favourite arcade/time attack mode. In Village's take on it, you can buy items and weapons from The Duke between rounds. But otherwise it remains faithful to the mode popularised by Resi 4. There's a New Game+ mode too, which lets you carry your weapons and character upgrades over to a second, harder playthrough.
Village can occasionally feel like half a dozen different horror games jammed together. But the strength and variety of its ideas, the quality of the art direction, and its darkly evocative atmosphere more than make up for it. It's a bold and experimental horror game, but also one that leans into the series' past glories—particularly Resident Evil 4. There's a lot of Mikami's 2005 reinvention here, from the enigmatic merchant and weapon upgrades, to the rural setting and corrupted villagers. But ultimately, Village is its own game with its own identity, and the elements it borrows from earlier sequels never define it. This is a quality horror game in its own right, and proof Resident Evil still has the power to thrill, surprise, and scare 25 years on.
TODAY'S BEST DEALS$27.83 (opens in new tab)at Amazon (opens in new tab)$39.99 (opens in new tab)at Adorama (opens in new tab)$59.99 (opens in new tab)at GamersGate (opens in new tab)