NEED TO KNOW
What is it? A former PS5 exclusive action-adventure game about multiversal chaos in an alien galaxy.
Release date July 26, 2023
Expect to pay £50 / $60
Developer Insomniac Games, Nixxes Software
Publisher PlayStation PC LLC
Reviewed on AMD Ryzen 9 5900X, 32GB RAM, Nvidia Geforce RTX 3080
Steam Deck Verified
Link Official site
$39.88View at Amazon$42.99View at Walmart$69.99View at Best BuySee all prices (14 found)320 Amazon customer reviews☆☆☆☆☆
This colourful action-adventure is the quintessential console exclusive. Released for the PlayStation 5 in 2021, it takes a beloved duo of Sony mascots and sends them on a journey designed to show off the specific capabilities of that hardware—particularly its fast-loading SSD, showcased with a story all about hopping seamlessly between different universes. All of which makes it a bit of an oddity to be reviewing on PC in 2023.  
Let's start with the simple stuff. Even if you have no familiarity with the Ratchet & Clank series—which, if you're a dedicated PC player, you almost certainly don't—Rift Apart is an accessible introduction. Set in a bright and cartoony sci-fi galaxy, the game follows Ratchet, a furry alien space hero, and his robot sidekick Clank, as they attempt to solve an interdimensional crisis set off by one of their old foes. Though there's a weight of history here, with tons of references for long-time fans and the pair almost playing the role of retired veterans after their many adventures across the series' 20 years of games, it's all easy enough to understand. Clank wants to help Ratchet find his lost people, Ratchet is trepidatious about it, they both want to save the universe—simple.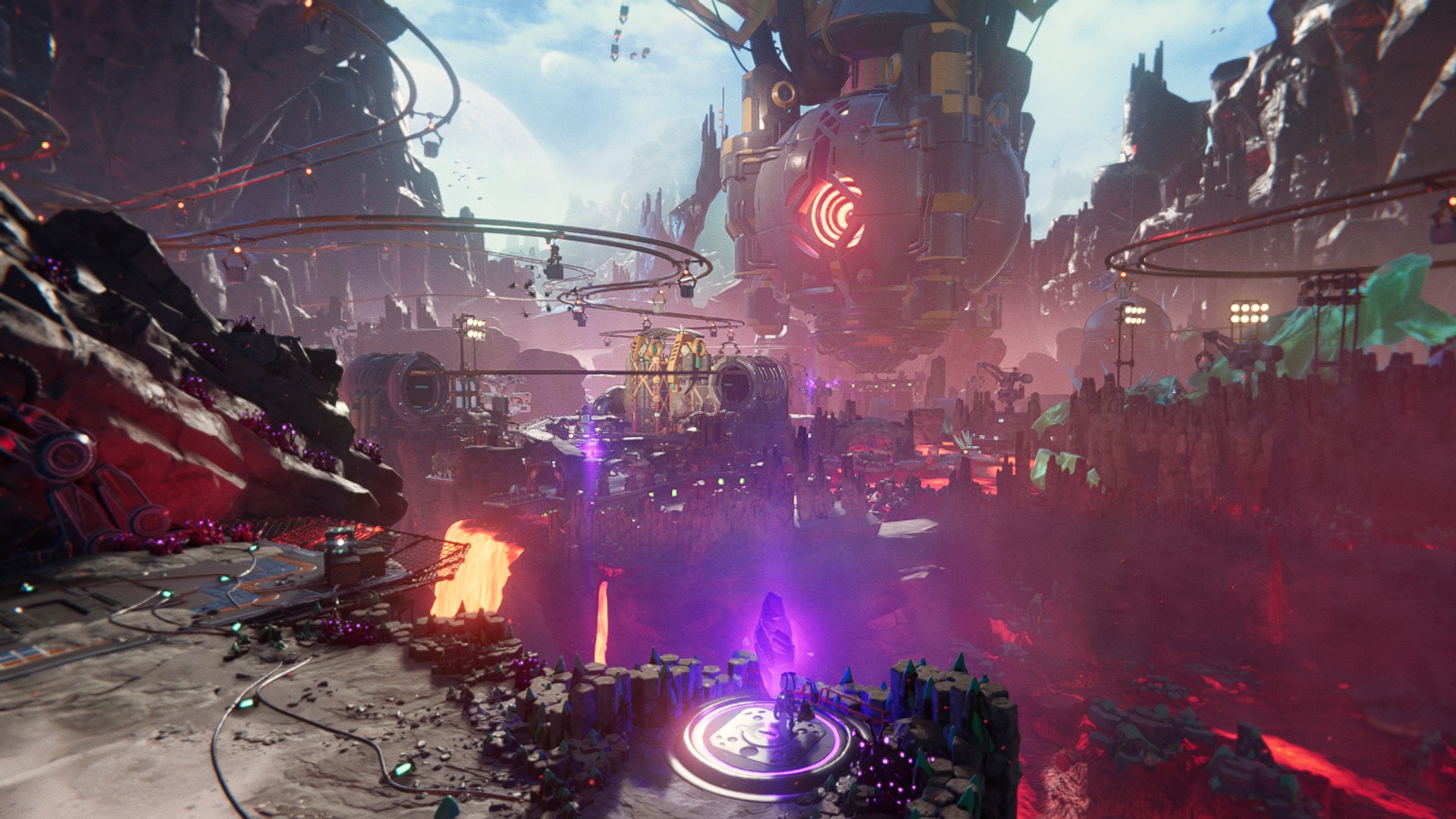 (Image credit: Insomniac Games, Nixxes Software)
Rift Apart is a console showcase that feels far less vital on PC.
Working your way through everything Rift Apart has to offer is a gentle but satisfying experience. No enemy is that hard to beat, no collectible is that convoluted to find, and there's plenty of mechanical and visual variety to prevent you getting bored. As a weekend of cinematic adventure and pleasant ticking off of tasks, it's really endearing.
The problem is that even collecting absolutely everything, doing every sidequest, and fully upgrading every gun in addition to completing the main story only took me about 15 hours total. If you just mainline the critical path, it'll be 10 hours or less. There is a new game+ mode, with further levels of weapon upgrades to gain, but while I enjoyed my time with Rift Apart, there certainly isn't enough depth to compel me to immediately replay it.
Brevity is no bad thing in games, but it's hard to escape the sense that Rift Apart is a console showcase that feels far less vital on PC. Though it came out six months after the PS5, it has all the hallmarks of a launch game—designed to reveal what the hardware can do at a point when not many other options are available. It's great-looking and likeable—you'd have to be pretty curmudgeonly not to get some joy out of its colourful galaxy—but it's far more style than substance. At £50 / $60 it's hard to escape the fact that on PC there are bigger, meatier experiences you could put that money towards. 
Ratchet and Clank Rift Apart: Price Comparison320 Amazon customer reviews☆☆☆☆☆
$69.99$39.88View
$69.99$42.99View
$49.95View
$69.99View
$69.99ViewShow More DealsWe check over 250 million products every day for the best pricespowered by