Need to know
What is it? Skateboarding as a side-scrolling platformer.
Expect to pay £25/$30
Release date February 8
Developer Roll7
Publisher Private Division
Reviewed on RTX 2070, 16GB RAM, AMD Ryzen 5 3600
Multiplayer? Online leaderboards
Link Official site (opens in new tab)
Check Amazon (opens in new tab)
OlliOlli World isn't like other skaters. It's not shredding lines down some asphalt concourse, pissing off security guards and scaring passing shoppers as it slams a haphazard 50-50 into the curb. Roll7's series of side-scrolling skaters has instead travelled to the far-off shores of Radlandia, a skater's paradise where the rails are always polished, the ramps free of loose nails, and aspiring shredders compete for the chance to become the next Skate Wizard.
OlliOlli World is weirder and wilder than those who Olli'd before it—and it's all the better for it.
The third game in the series follows the template laid out by OlliOlli 1 and 2. You're tasked with skating a line down a side-scrolling course, using A to push and the left stick to launch into kickflips and the like (it's worth noting a controller is mandatory, and controls unfortunately cannot be rebound). As you go on you build up your bag of tricks, chaining combos with manuals, grinds, wallrides as you look to not only finish stages, but finish them in style—racking up high scores and hunting down secondary objectives.
Written like that, World doesn't sound too different from its forebears. But from the moment you fire up the game, it's clear World is shredding a line all of its own.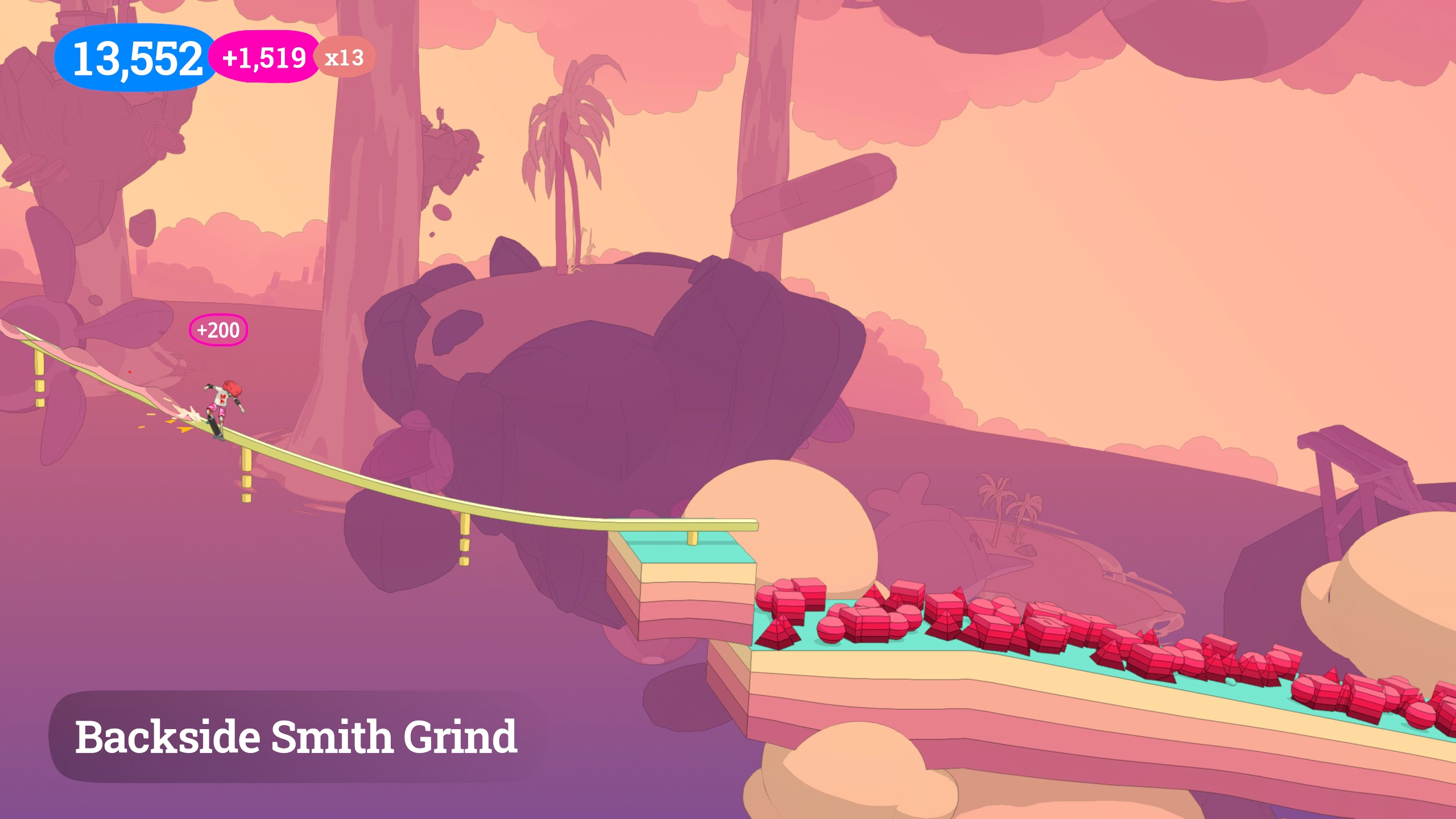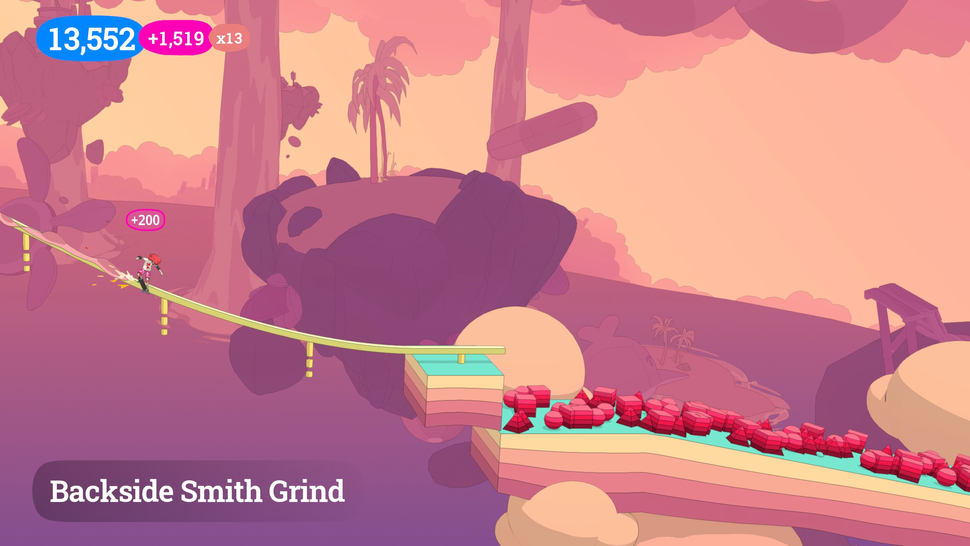 (Image credit: Roll7)
Unlocked after beating the first region, Gnarvana is a mystical space that lets you generate and share tracks by choosing their difficulty, length, and biome (or by entering a 'postcode' seed). Being cobbled together from proc-gen parts they miss the bespoke appeal of the main stages, but it's also where World's Daily Challenges exist—spewing out a new track every day to fight over. 
It immediately tickles the part of my brain that religiously took on Nuclear Throne dailies for a year. In letting you view replays from other contenders, it's also lo-key a great learning tool for figuring out how to maximize your routes (though I found replays could often be a little off-sync).
Stick the landing
Roll7 could've played it safe for a third OlliOlli. OlliOlli 2 was, after all, a fairly safe sequel that refined on and tightened up the format laid down by a 2014 debut Phil adored (opens in new tab), so it's easy to imagine a world where a third iterated to perfection a la Tony Hawk's Pro Skater 3. 
But in shedding the grounded style of its predecessors, OlliOlli World gives the series a much-needed sense of identity. OlliOlli isn't just 2D Skate now—it's a wonderfully surreal skateboarding paradise, a vibrant rhythmic platformer played out on grind rails and halfpipes.
A hard pivot to stoner skater Pendleton Ward aesthetics and a gentler learning curve might risk putting off series die-hards, but skateboarding games are in the midst of a renaissance (opens in new tab) that includes kickflipping budgies, lo-fi halfpipe toys and crystalline skate sessions in the underworld beneath New York. OlliOlli World's radical reinvention doesn't just help it keep up with this pack of new skaters—it's just what the series needed to spawn one of the most stylish, satisfying skaters around.
TODAY'S BEST DEALSCheck Amazon (opens in new tab)