Need to know
What is it? Point-and-click narrative adventure.
Expect to pay $15/£11.39; act 1 demo is free on Steam
Release date March 24, 2022
Developer Geography of Robots
Publisher Raw Fury
Multiplayer? No
Link Official site (opens in new tab)
Check Amazon (opens in new tab)
You might have heard of Norco, the new point-and-click adventure praised for its gorgeous pixel art, sublime writing, and poetic exploration of class, identity, faith, and materialism. You might have heard about its white-hot social commentary on capitalism and environmental destruction in the real-life town of the same name—Norco, Louisiana—home to a powerful oil refinery that both feeds and bleeds the people around it. When people talk about Norco, they often talk about its discerning use of science fiction, its hyperlocal focus on a particular part of the Deep South, and how much it resonates as a universal story about place and personhood (if you're looking for an easy Kentucky Route Zero comparison, I've written about that lazy shorthand, as well as the game's punk roots here).
My favorite part of Norco is far less noble. It happens in an abandoned mall in Act 2, where the player sows discord among a cult of insecure boys who call themselves the Garretts. Armed with a voice memo app on my in-game phone, I gleefully tick off boxes for Unethical Modern Behavior—secretly recording the shit people say, pruning away context and using it to turn them against each other. Finally, a game that understands the weakest, pettiest, most chaotic parts of humankind. Finally, I feel seen.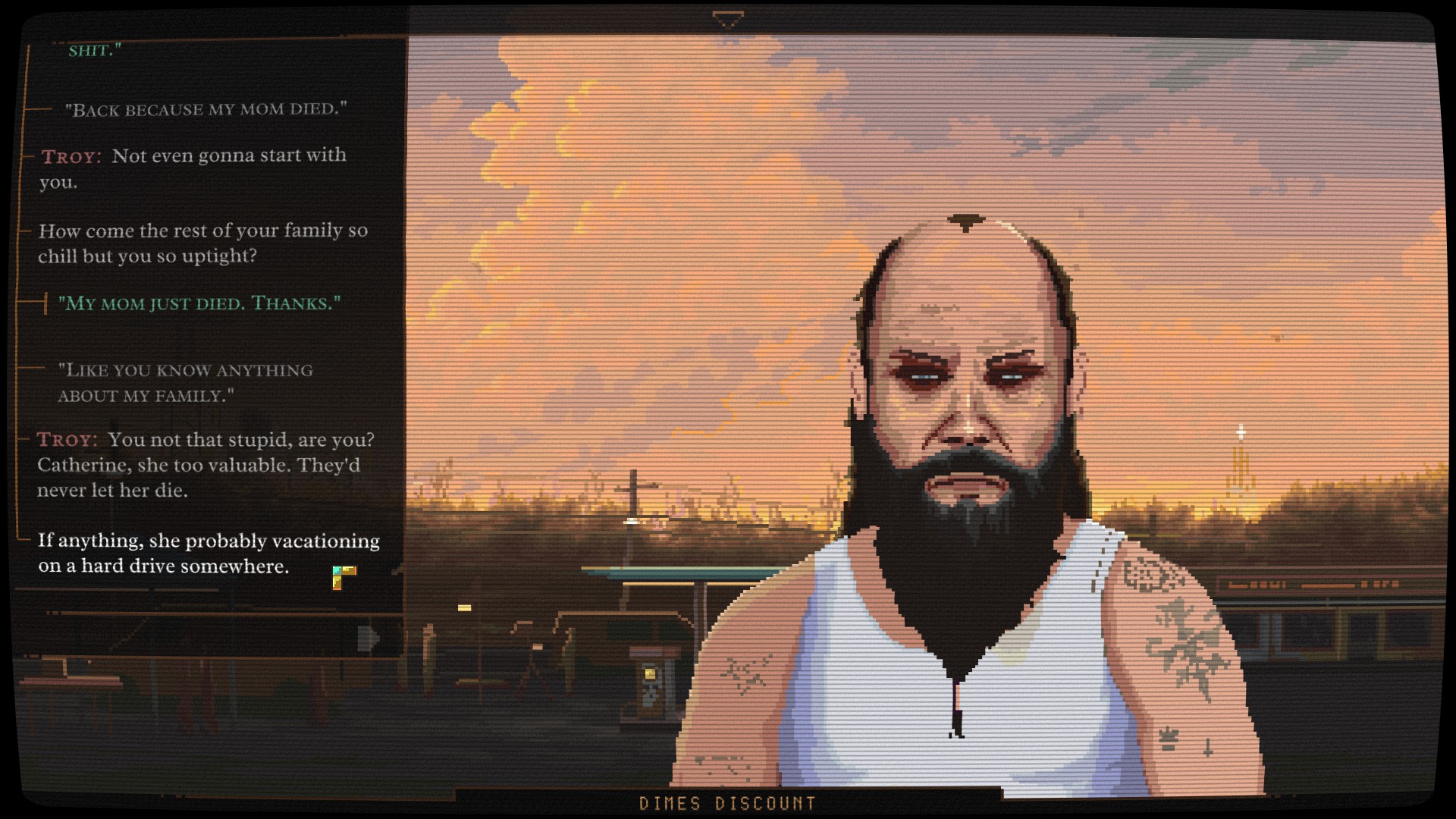 (Image credit: Raw Fury)
A huge part of understanding the heart of Norco comes from understanding the Garretts, who I feel are the true protagonists of the story. They evolve from pernicious "mall Nazis" to a group of degenerates who tried, in their own misguided way, to actualize a sense of self and community. They are, perhaps, the easiest characters upon which players can imprint themselves thanks to the range of subcultures and petty, painfully human foibles that flourish among them. There's a depth to each Garrett subtype that transcends average point-and-click characterization, elevated by Yuts' unparalleled ability to build empathy and connection between the most disparate social identities. 
On a good day, Norco is a bastion of beautifully evocative storytelling that invites any player to take refuge in its world. On a bad day, it cuts deep as a sobering, but loving portrait of a modern dystopia—a community on the edge of great change. But on a personal level, it's a game that understands who we are and what the internet has made us—how this digital constellation of fragmented subcultures has shaped the way we see the world and our place in it. There are few games in the world like Norco, and it belongs unequivocally in the highest tier of narrative experiences in the medium today.
TODAY'S BEST DEALSCheck Amazon (opens in new tab)