Need to know
What is it? A racing sim carrying the official MotoGP license.
Expect to pay $50/£40
Developer Milestone Interactive
Publisher Milestone Interactive
Reviewed on I7 9700K, RTX 2080 TI, 16GB RAM, Windows 10
Multiplayer? Up to 22 players
Link Official site (opens in new tab)
Check Amazon (opens in new tab)
Are you new to motorcycle racing games? Well let me tell you this: MotoGP 21 is going to be really, really difficult. But what am I saying—maybe you're a perennial hundred-hour player in Milestone's long-running bike sim, with every braking zone from Losail turn one to Valencia's Adrian Campos corner memorised. Guess what: MotoGP 21 is still going to be really, really difficult. 
This series has turned adamantly sim-wards since its move to Unreal Engine in 2018, but this year's release represents the most noticeable shift in difficulty and realism in years. In particular, changes to suspension and braking make themselves felt in every corner entry and apex, demanding a different approach than last year's game asked of you. And if you didn't play last year's game: oh boy. You're going to be spending some time in the tutorial. One which is pretty comprehensive this year, perhaps not by coincidence.
In fairly dry but informative lap sector challenges, you're introduced to the various assists and encouraged to try racing with and without them, before graduating to fiddlier aspects like manual electronics management, tyre wear, brake temps and overtaking without killing yourself, several other riders, and any number of spectators. I'm still working on that one myself.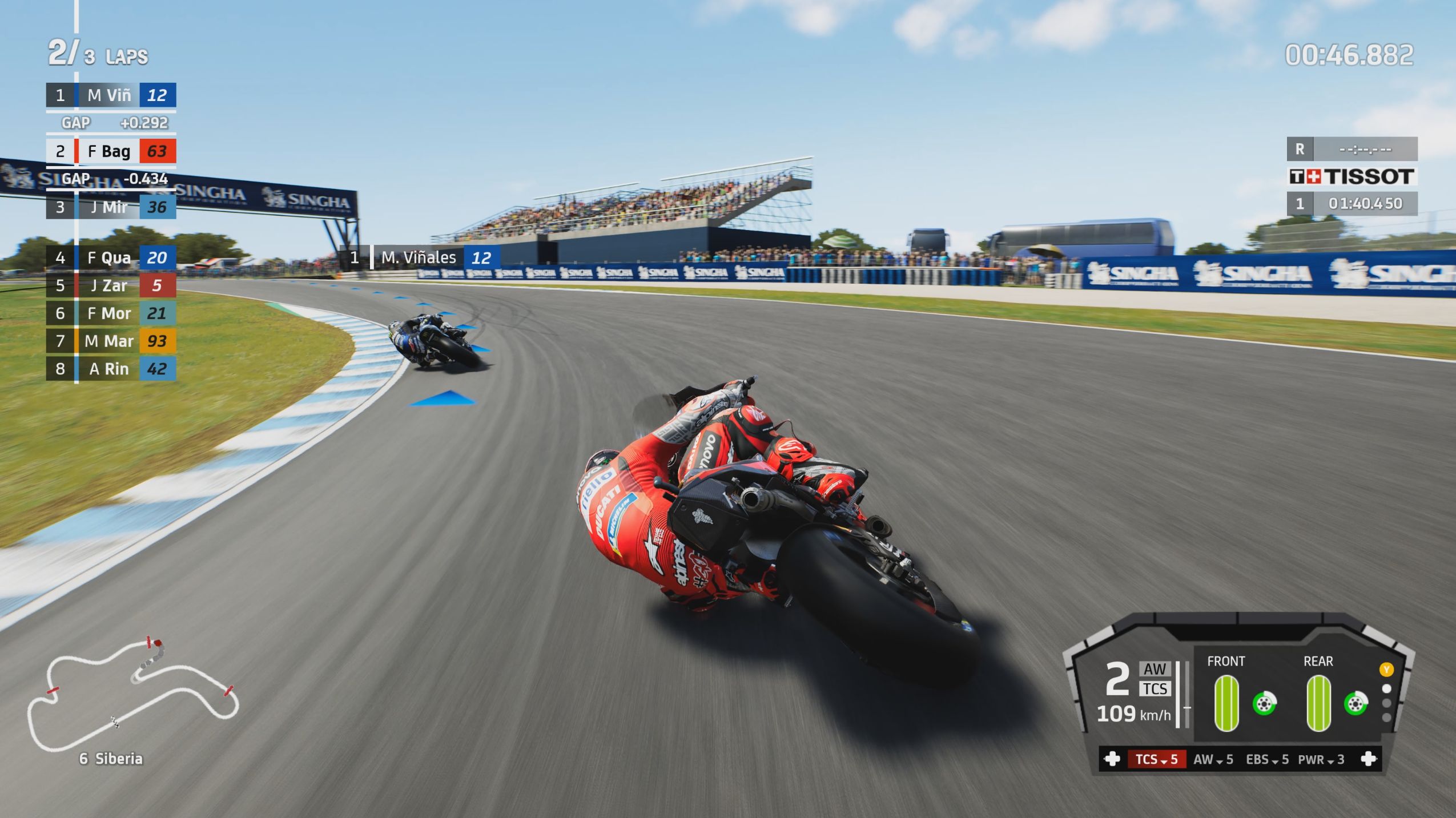 (Image credit: Milestone S.r.l.)
But there's trouble in this paradise of two-wheeled poise and balletic gliding from apex to apex. That trouble takes its most noticeable form in the AI riders, who employ some very odd tactics including but not limited to: constantly wiggling very slightly from side to side on straights, crashing 90% of the time in a particular turn at Assen, and never, ever taking a long lap penalty. They also reset to the track straight after crashing, so if you have the new bike recovery mechanic enabled, you'll spend 10 seconds running your rider over to his bike and picking it back up while any other fallers are already three turns up the road. 
Something's changed in the lighting, too, which makes this year's game appear flatter and duller than the last, while the tyre spray from wet races has a distracting flicker. Admittedly MotoGP 19 had some pretty gnarly whiteouts during sunny races, so it's nice to see those retina-destroying moments are gone, but in its quest for a more realistic look MotoGP 21's lightning sucks some life out of the environments.
You should buy MotoGP 21 anyway, though, if you have even a sliver of interest in the exploits of Quartararo, Mir, Vinales, Rossi and the gang. Its meaty career mode can hold you for months, and the uncompromising handling model holds a fascination all of its own.
TODAY'S BEST DEALSCheck Amazon (opens in new tab)