Need to Know
What is it?  You hunted the monsters in Rise, now they're back to hunt you.
Expect to pay £33/$40
Developer Capcom
Publisher Capcom
Reviewed on GeForce GTX 1070, 16GB RAM, i7-7700HQ
Multiplayer 4-player co-op
Link Official site (opens in new tab)
$39.99 (opens in new tab)View at Best Buy (opens in new tab)$43.99 (opens in new tab)View at Amazon (opens in new tab)$59.99 (opens in new tab)View at GamersGate (opens in new tab)See all prices (8 found)
There are two sides to Monster Hunter Rise Sunbreak. The first will see you out on a quest in a luscious jungle, gathering bugs and swatting away little monsters as you look for a snail: which you'll then take a picture of, and be rewarded with a very fetching snail hat. The other side of Sunbreak is your hunter, helpless on the ground as a furious red-eyed monkey beast stomps your keyster into the ground. Or perhaps it's a giant dragon with a rhino's horn, one-shotting you with charges (which inflict poison to boot).
Over and over and over again, you will watch hunters fall to the ground.
It's one of the cute aspects of Monster Hunter that, in a game built around brutal moves and nature red in tooth and claw, the hunters still 'faint' when a giant raging monster KO's them. Don't worry, everything will be fine. The real twist of the knife is the limited continues on each mission, such that 'carting' three times (you're taken back to base on a cat-propelled stretcher) means a restart. It is a strange thing in 2022 to have an old feeling—that sense you've just spaffed 40 minutes up the wall on a fight and, because you went for an extra hit or screwed up a dodge, have to do it all over again.
Monster Hunter Rise was first released on Switch in early 2021, and arrived on PC in January this year (here's our review). More in the lineage of the older portable titles than the all-singing all-dancing Monster Hunter World, Rise is absolutely crammed with weapons to try out, monsters to hunt, and loot to stuff away in boxes (and occasionally wear). It also greatly improved the player's movement, made area transitions seamless, and was a more gentle singleplayer experience than what had come before.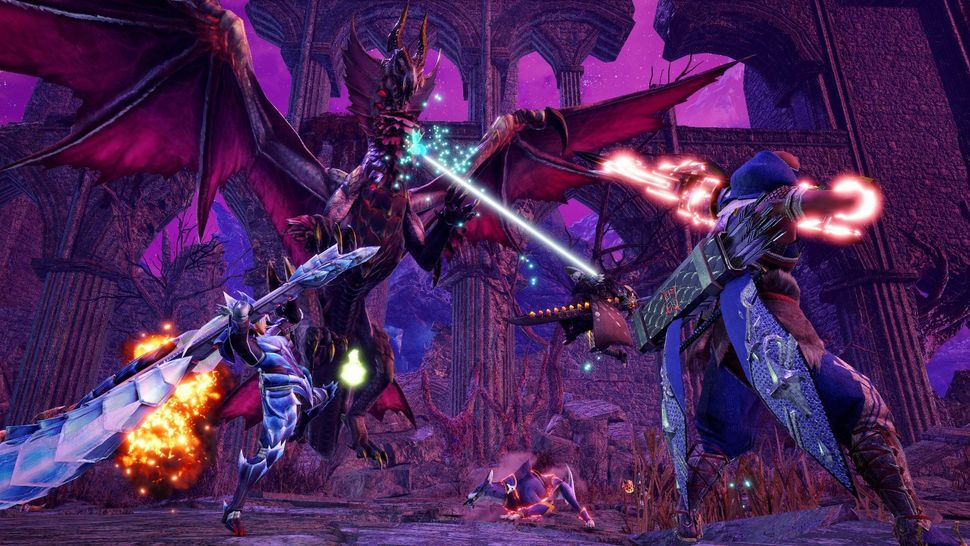 (Image credit: Capcom)Performance & Settings
Performance was excellent on a GTX 1070—bar consistent screen-tearing, which I also found was a problem with Rise when reviewing it. It held a smooth frame rate otherwise, with no performance issues. There's a considerable range of graphics options and even support for ultrawide displays.
This is not a visual spectacle, though, if you ask me, it looks great. Mid-level machines should be able to run it without breaking a sweat. 
The new environments feel denser than those in vanilla Rise, though this may be a function of the expansion adding more small creatures and endemic elements like two new wirebugs. Both are mount-focused, one making the 'punisher' attacks more lethal and the other increasing the drop rates from monster fights. In keeping with that, it felt to me like the monsters are a lot more aggressive towards each other at Master Rank than they ever were in the base game, though that's just my sense.
Another aspect of Sunbreak that's locked-away until you start facing monsters like Malzenos is the sheer amount of stuff added in the way of secret armour sets, companions, master rank layered armour… things that seem like fluff but are so important for certain players. Suffice to say that if you're a fan of the traditional Monster Hunter endgame, this offers that customizability and min-maxing as well as the series ever has.
Monster Hunter Rise is as good as this series has ever been, and Sunbreak is much more of the same. It's also a lot tougher, but that feels like the right call. For some fans of the series, you could probably add a 10 onto the score. It does lack the thrill of the new, even if some of its additions are more significant than they first appear, and essentially functions as a proper endgame to an already expansive experience. Less a Sunbreak, then, than a sunset.
TODAY'S BEST DEALS$39.99 (opens in new tab)at Best Buy (opens in new tab)$43.99 (opens in new tab)at Amazon (opens in new tab)$59.99 (opens in new tab)at GamersGate (opens in new tab)