The recent wave of games designed around timeloop mechanics reveals a simple truth: timefuckery is cool, it makes you feel clever, and videogames, intertwined as they are with the concept of perpetual death, are the perfect medium to explore it. 
Need to know
What is it? Multiplayer FPS with a unique time-loop mechanic
Expect to pay: $20/£16 (free on Xbox Game Pass)
Developer: Ratloop Games Canada
Publisher: Frontier Foundry
Reviewed on: Ryzen 7 5800H, Nvidia GeForce 3070 (mobile), 16GB RAM
Multiplayer? Multiplayer-only
Link: lemnisgategame.com 
Check Amazon (opens in new tab)
Lemnis Gate dusts off an old-school arena shooter framework and layers it with a pretty brilliant time loop concept. Each match consists of five overlapping 25-second rounds. For each round you pick a unique operative to carry out the mission—which may be a twist on your classic Deathmatch, Domination, Attack & Defend modes, or grabbing orbs from around the map and running them back to your base.
But here's the temporal twist: with each round—which may be simultaneous with your opponent or turn-based, depending on which match type you queue into—you and your opponent's plays from previous rounds get looped in. So by the end of the match you and your enemy are running around amidst four past versions of yourselves, all dutifully stuck on the paths you set for them. 
The key to victory is disrupting the enemy's past loopers from carrying out their objectives while preserving yours (this is spiced up in simultaneous mode where you and your enemy move at the same time—imagine making simultaneous chess moves with someone!). The most obvious way to disrupt an enemy is to shoot them, of course, but things get much more interesting than that.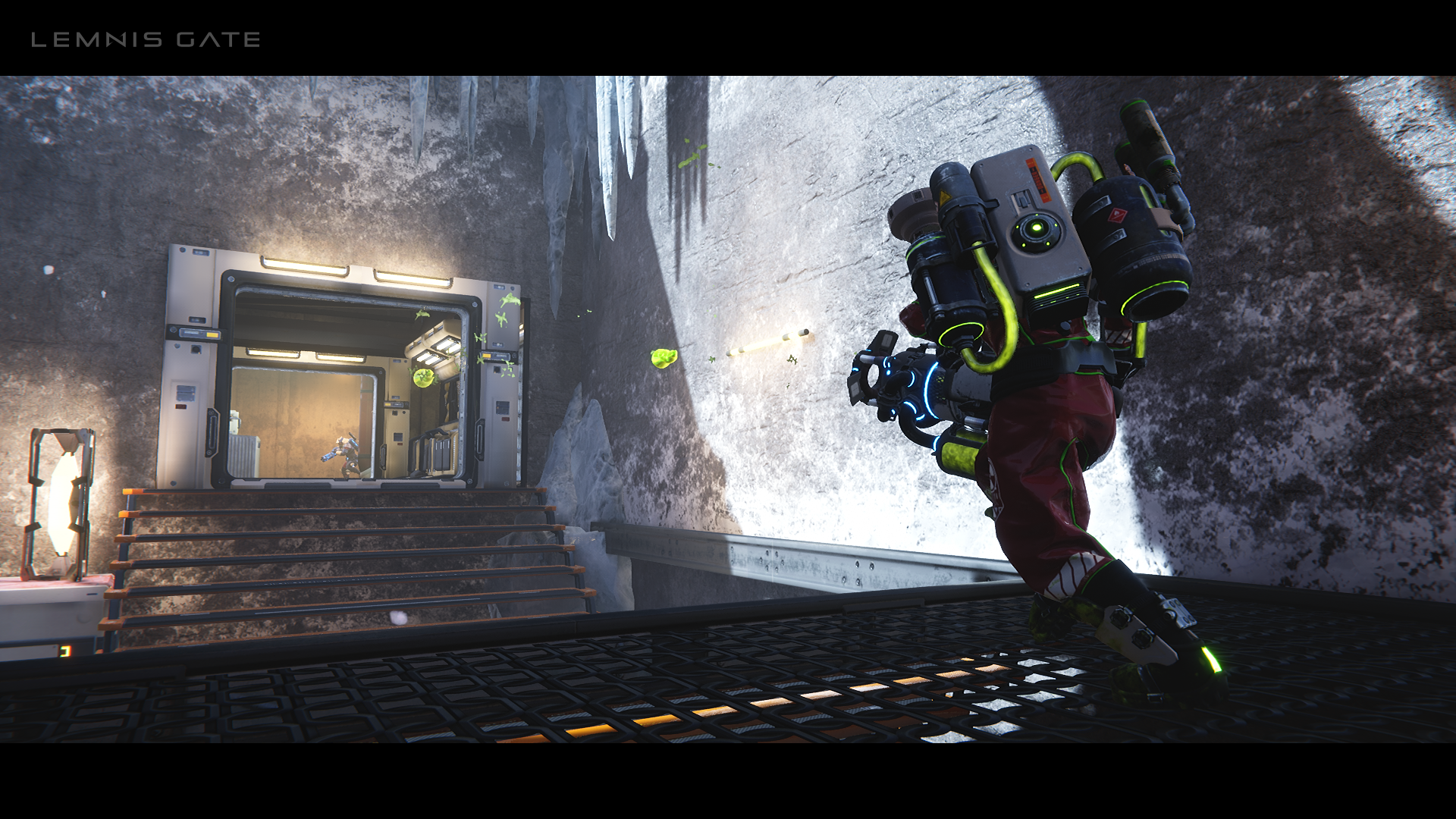 (Image credit: Ratloop Games)
I hadn't felt such ecstasy in a comeback since my Rocket League heyday, and it's testament to the map design that you can do an awful lot in 25 seconds (so long as you plan and execute properly).
Lemnis Gate isn't perfect, and not just because its name evokes cough syrup more than 4D Chess with Unreal guns. It doesn't quite have the precision you'd want from a game where the margins between defeat and victory are so fine. Acceleration and sprinting feels stodgy, hitboxes around heads and shootable objectives aren't always precise, and the rocket launcher crosshair is a nightmare. It means that amidst all the wonderful timeloop choreography you (and up to one teammate) devise, there are a few moments of hair-tearing frustration when the lack of polish undercuts your bullet ballets.
But that speaks to the high emotions Lemnis Gate evokes, and these technicalities should get tightened up with time. All in all it's an auspicious start for this high-concept twist on the arena shooter, where smart strategising between rounds and dexterous gunplay during them are in a constant tug-of-war with each other, where games can hinge on a single bullet, well-placed turret or—as the case may be—globulet of green goo.
Player counts could be higher (crossplay does help), and you might struggle to find a full 2v2 game at this point, but that's all the more reason to leap in with a friend. At a modest $20/£16 (or free with Game Pass), it could prove an ever-swirling timesink for shooter fans with a cerebral side.
TODAY'S BEST DEALSCheck Amazon (opens in new tab)