Need to know
What is it? A turn-based dungeon crawler.
Expect to pay £27.79/$35
Developer Flaming Fowl
Publisher Asmodee Digital
Release Out now
Reviewed on AMD FX-8350, Nvidia GeForce GTX 1070 Ti, 32GB RAM
Multiplayer? 4 player co-op
Link Official site (opens in new tab)
$34.99 (opens in new tab)View at Lenovo USA (opens in new tab)$34.99 (opens in new tab)View at Green Man Gaming (opens in new tab)$145.38 (opens in new tab)View at Amazon (opens in new tab)See all prices (6 found)4 Amazon customer reviews (opens in new tab)☆☆☆☆☆
Gloomhaven is surely the most widely-praised hobby board game of the past decade. The digital edition replicates the sprawling Gloomhaven campaign in its entirety, adds an entirely new second mode, Guildmaster, along with online multiplayer: An adaptation of the tabletop experience that leaves nothing behind. While it's impossible to replicate the magic of sitting around a table, designing it to work on a screen provides things a boxed board game never would. Nonetheless, occasionally poor performance, the lack of a few quality of life features, and a liberal sprinkling of bugs hold Gloomhaven back.
It's a dungeon crawler at heart, where stories of fantasy and adventure read by a gravelly Scottish narrator sit alongside tactical missions that take adventurers through a series of rooms and monsters to accomplish fairly simple objectives. Everything in between quests is a 'choose your own adventure', where decisions are made and give static bonuses or penalties to either the campaign as a whole or the next adventure. The writing isn't its strong suit—this isn't Baldur's Gate by any stretch—but the voiced narration adds some meat to the bones of these stories. The simple campaign mode is engaging enough to keep you coming back night after night as you chart a fantasy epic, building up the town of Gloomhaven and watching your adventurers level up, retire, and get replaced by fresh blood.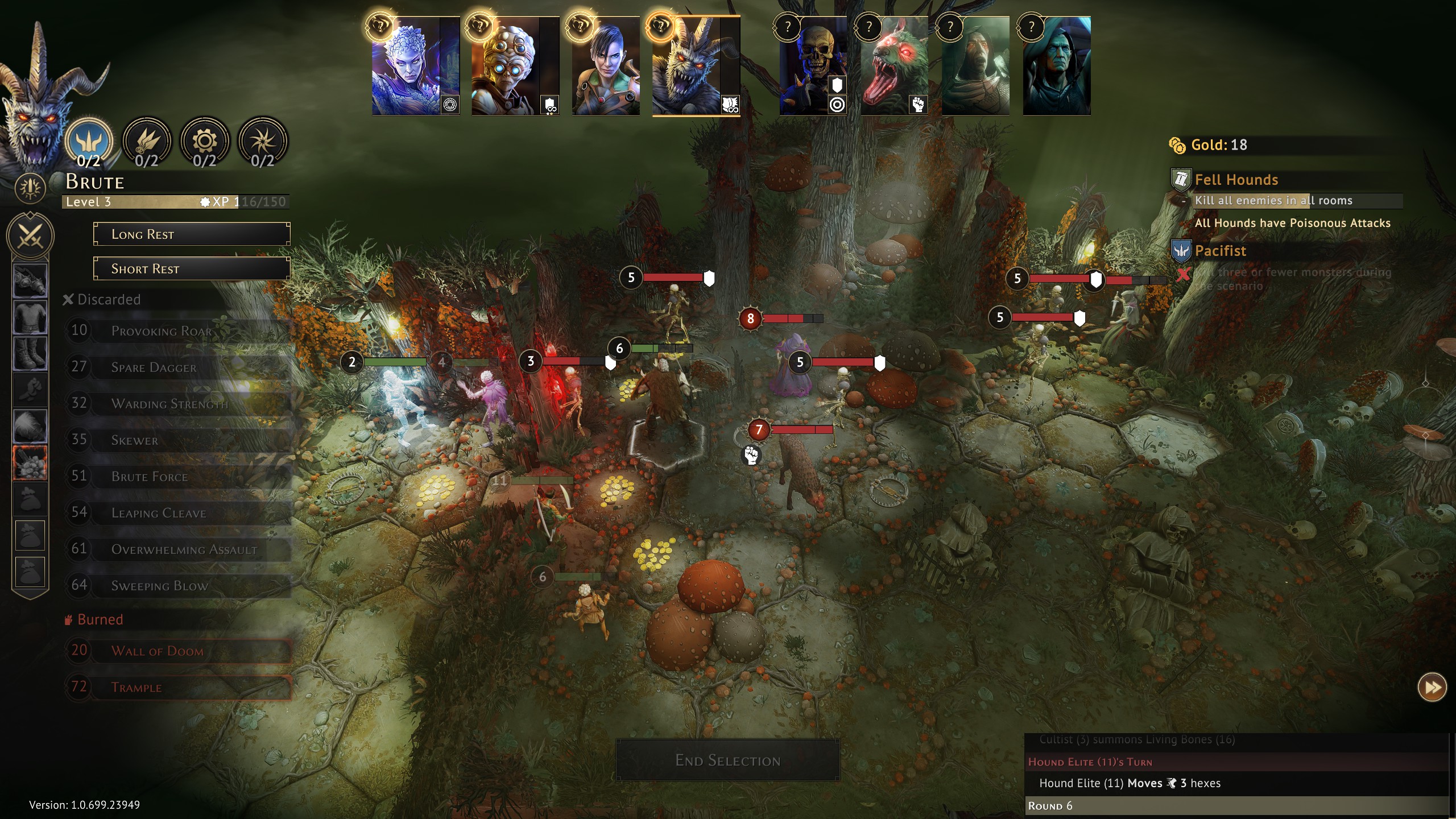 (Image credit: Asmodee Digital)
These fairly simple rules make fights into a slew of tough tactical choices and tight time limits. Missions are hard, and even the easy difficulty can and will beat tactics veterans into a pulp. A single misplayed card can set you on the path to doom in some scenarios: burning a powerful ability early might feel good, but what if that's the power you needed to grab the loot or knock out the last few enemies fast enough? It's some of the best tactical play in gaming, and some of the most delightfully difficult choices you'll ever make in a dungeon crawler. If that doesn't sound like enough, there are 17 playable classes with their own unique mechanics and decks of cards.
Bafflingly, Gloomhaven doesn't have an undo button. What should be easy-to-fix mistakes like moving one hex off, selecting the wrong ability, or misclicking to pass on an ability are impossible to take back. Misunderstanding the rules can be extremely frustrating, and there's no comprehensive rulebook in the menus. It's absolutely bizarre that I had to consult the tabletop rulebook to be sure I understood mechanics: When is my character's combat deck shuffled? What does that little flippy arrow mean? None of this is clear. 
Nonetheless, the campaign is a blast with friends and far faster than a boxed game. Four hours at the table will get you a single dungeon, with its encounters before and after, played. Four hours in the digital campaign will let quick players plow through as many as three dungeons. If you feast on this kind of tactical play like I do, and if you're very happy to let the computer handle the little details, then Gloomhaven's ruggedly narrated adventures are exactly what you want from the genre. It's the thing all good tabletop adaptations should have: A reason why I'd play this rather than sit around a table.
TODAY'S BEST DEALS$34.99 (opens in new tab)at Lenovo USA (opens in new tab)$34.99 (opens in new tab)at Green Man Gaming (opens in new tab)$145.38 (opens in new tab)at Amazon (opens in new tab)