Need to know
What is it? A survival citybuilder set after the climate change apocalypse.
Expect to pay $30/£25
Developer Vile Monarch
Publisher Ravenscourt
Reviewed on Intel Core i7-10750H, 16GB RAM, GeForce RTX 2060
Multiplayer? No
Link Official site (opens in new tab)
Floodland, in a lot of ways, is an epilogue to the traditional city builder. Civilisation is in ruins as a result of climate change, and now you have to rebuild with the flotsam and jetsam we left behind. There's no lush, untouched meadow to stick a motorway on, as in Cities Skylines. There are a lot of smashed-up cars and collapsing houses, rotting boats and wonky skyscrapers. You'll plunder all of these to rebuild society, for good or ill.
Even before you have set down your first structure, you'll need to scout the immediate area, sending settlers into the fog of war in search of resources and promising-looking buildings. The most urgent resource is rubbish, which you'll cobble together into primitive homes, along with job stations so you can put your citizens to work.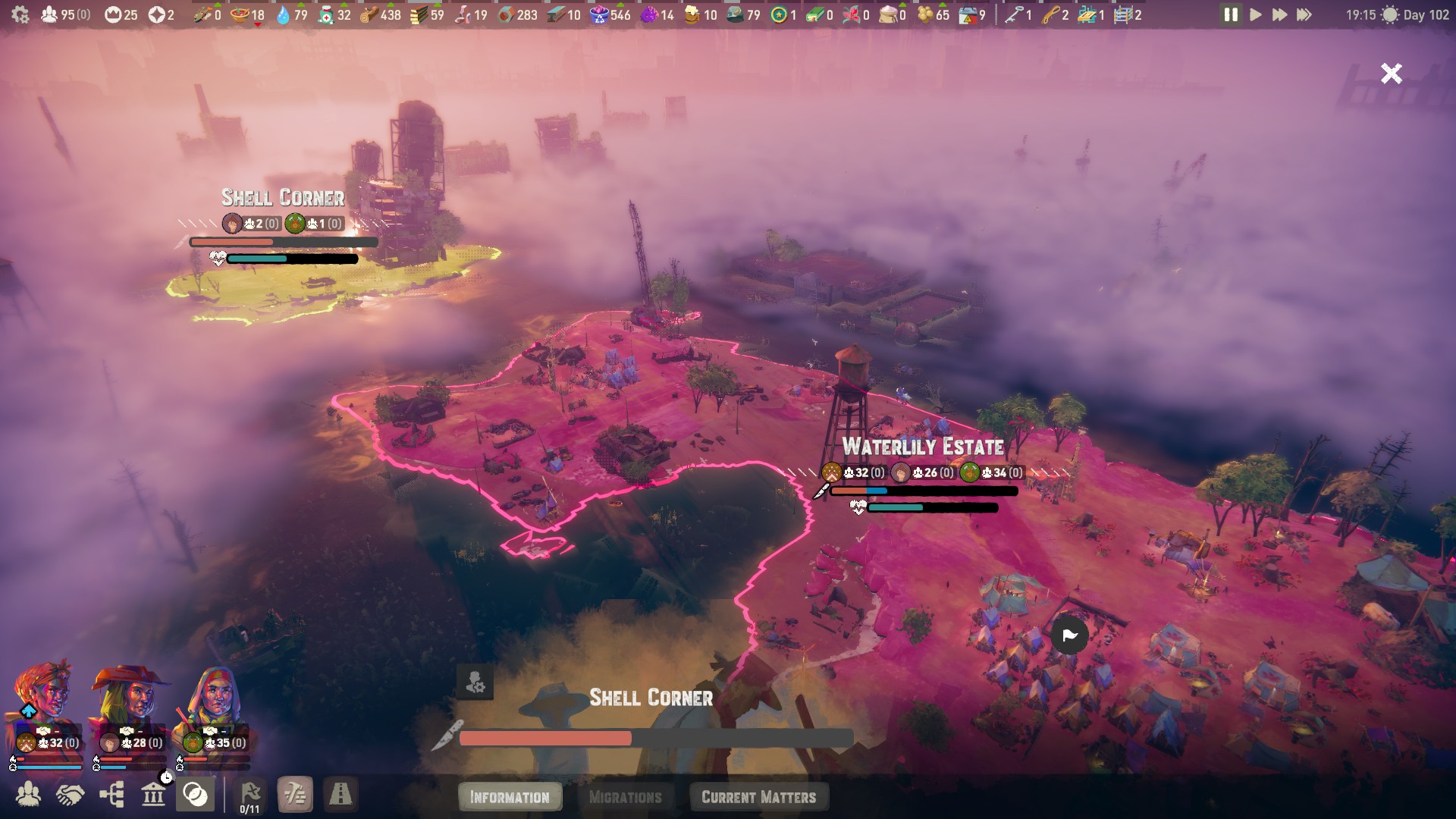 (Image credit: Ravenscourt)
But even when it behaves itself, I find it difficult to connect with Floodland. For a game that values people so highly, all you really see of them are the static portraits of a few clan leaders, with the actual settlers being unidentifiable ants ferrying things around. Collapsing a couple of dozen people into the personality of a single clan leader is a sensible idea at this scale, but it makes this a game about squabbling politicians, rather than the little people doing all the work—and I don't like any of the politicians here very much.
Floodland is an exhaustive (and exhausting) game of survival, expansion and politics. Its exploration element is compelling, and it can be satisfying keeping on top of all the mounting logistics problems. Sadly, with its unlikeable talking heads, it just didn't give me enough of a reason to care.