Need to know
What is it?  The second entry in Frontier's F1 Manager series.
Release date July 31, 2023
Expect to pay $55/£45
Developer Frontier Developments
Publisher Frontier Developments
Reviewed on RTX 2070, Intel Core i7-10870H, 16GB RAM
Link Official site
Last year's F1 Manager 2022 let us taste the pain of being an F1 team principal, coming away with a newfound respect for Horner, Wolff et al, but also with an air of optimism for Frontier's new series. It was a strong debut and exactly the sort of game that would benefit from a sequel. Well, that's precisely what we have here—but are its improvements the gaming equivalent of Mercedes' 'zero sidepod' design?  
The biggest, most visible change is in the way the cars actually drive in the 3D race engine, though it's sadly not for the better. Last year's game saw the field soon settle into a snake and then begin to pass with DRS assistance. In this 2023 version, the 'crocodile' of cars (we still miss you, dear Murray) takes longer to settle, driving two abreast for several corners at a time. Trouble is, thanks to the new multiple lines the AI can take through corners, such navigation in tandem seems to be their preferred state. Cars are frequently fighting wheel to wheel for several corners, which would be amazing in real life (it's the dream, right?), but here it's unrealistic and actually frustrating because it means overtakes rarely stick. Cars just trade places fluidly and will even navigate Monaco's tightest bends side-by-side.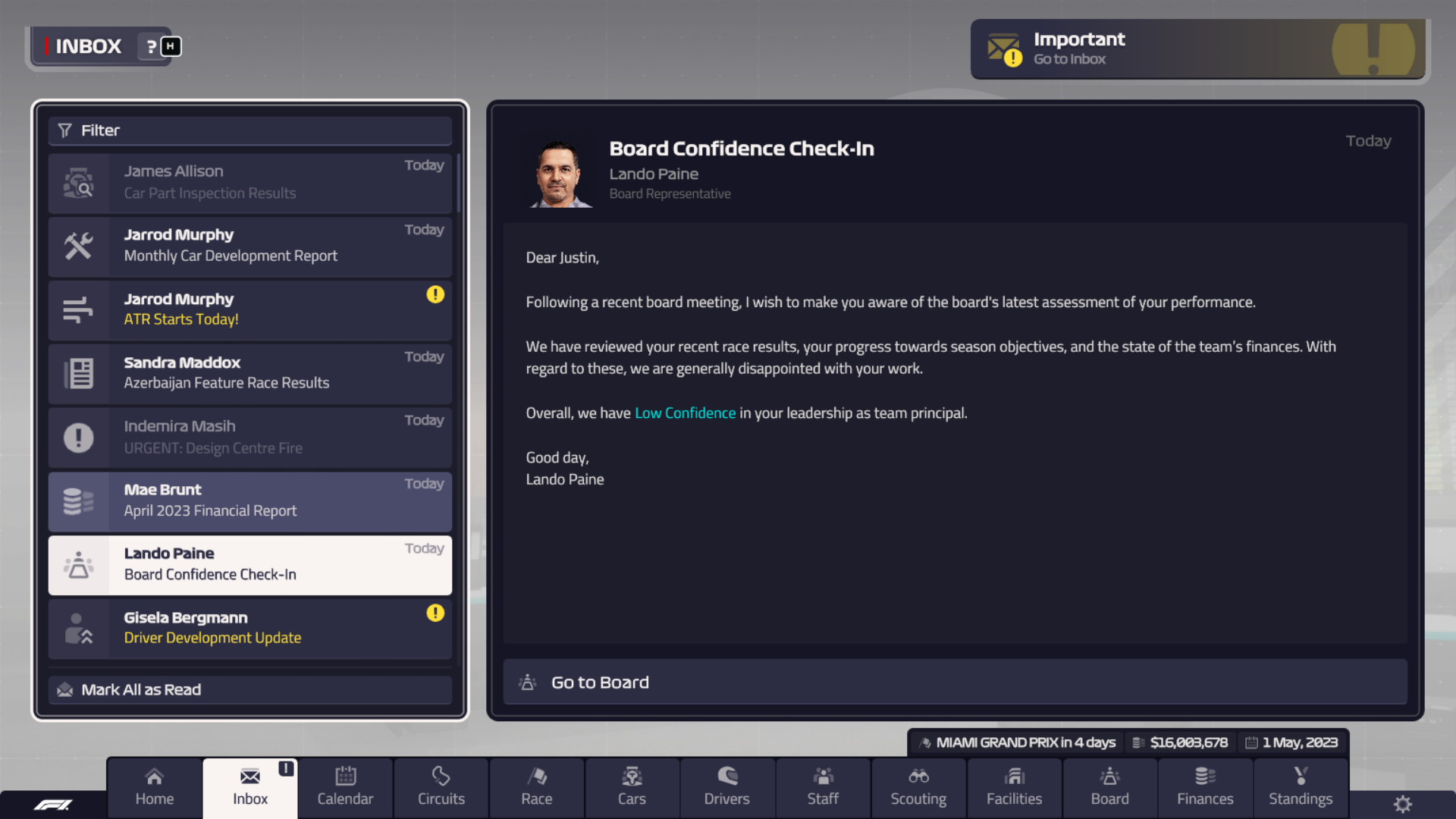 (Image credit: Frontier Developments)
Aside from the expansive career mode, the new Race Replay mode lets you try your managerial hand at preset scenarios from the real F1 season. You can either take on a specific Grand Prix weekend and try to do better than your real life counterpart, or try Race Moments to drop into a real life race at a pivotal point in order to rewrite history. It's a neat addition that gamifies the experience a little more, which is welcome, but some challenges seem near impossible, like getting Alonso to win at Monaco. Verstappen always comes out ahead and stays there. GP2 engine is clearly the only logical conclusion.
So the main question must be, of course, 'is the game actually fun'? And the answer, despite the flaws, is 'yes'. Though it's worth noting that it does seem a little harder than last year, and with the core experience being fundamentally repetitive, realising you should have done something differently some six races ago is pretty demoralising. The prospect of starting again after 20 hours isn't too bad, though, as it becomes evident where your mistakes were made and righting those wrongs is itself an enticing proposition. But it's a serious amount of free time for a lot of people, and you need to be ready to devote tens or even hundreds of hours to the game if you want to win the championship.  
This second attempt isn't going to convince anyone who wasn't won over by the first game, but for newcomers, anyone picking this up is still likely to be impressed by the TV presenters, impressive driver likenesses and depth of team simulation. Still, those key areas of racing and car damage need more obvious improvement next year or the series might start to flounder. Sadly, as with those infamous Mercedes sidepods, the new 'multiple lines' feature really isn't much of a step forward at all and it might be wise to revert to something a little more traditional sooner rather than later.