Need to Know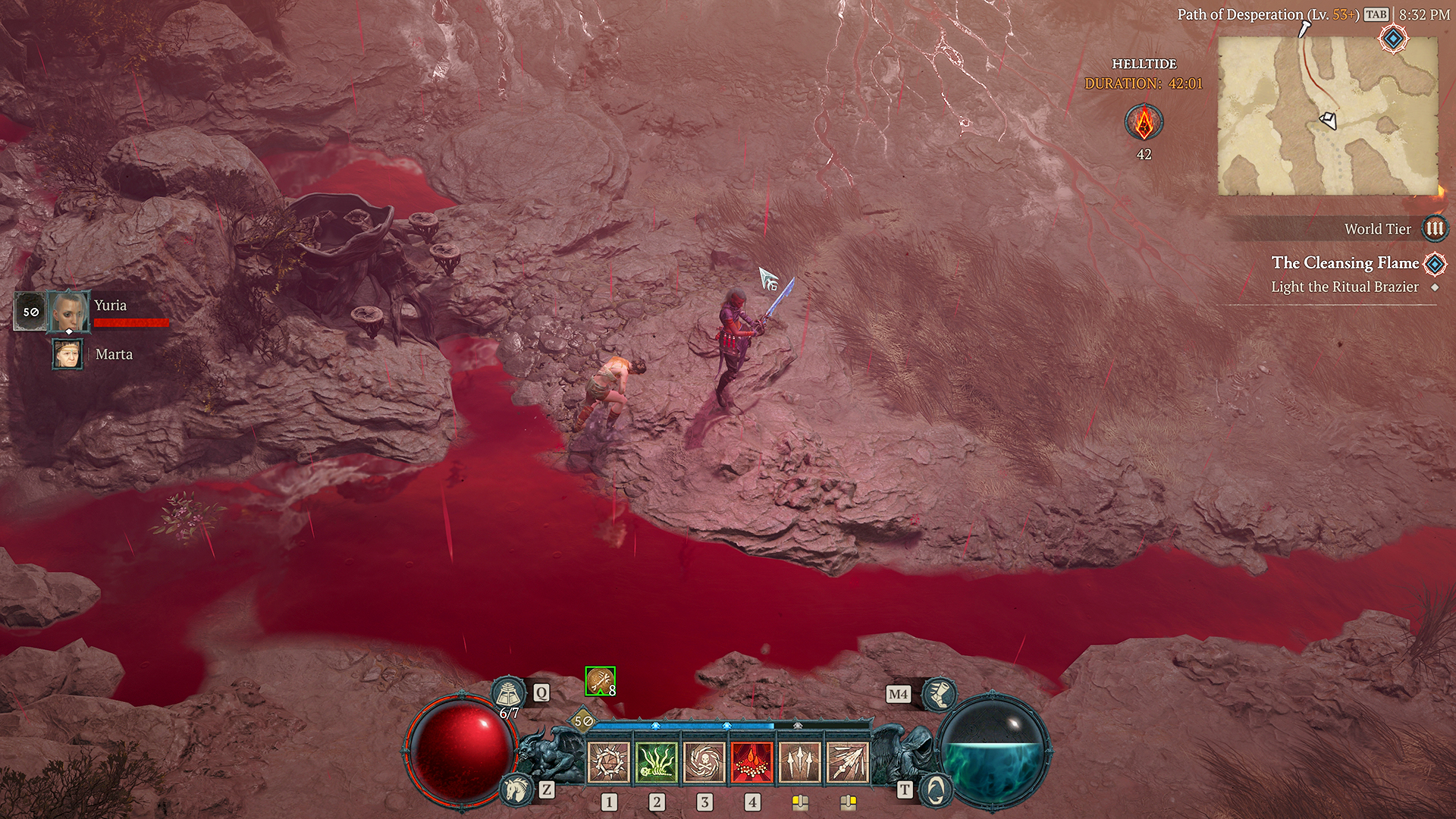 (Image credit: Tyler C. / Activision Blizzard)
The deeper you get into Diablo 4, the harder it gets to change your playstyle. It's one of the consequences of trashing Diablo 3's brilliant rune system, which allows you to swap your skills for free at any time, in favor of a Diablo 2-style skill tree. And this is only made worse by how important your gear is to your build. Legendary items come with aspects that alter how your skills work, and many of these can define your build. If I were to drop the aspect that generated my Necromancer's resource when I slow enemies, I wouldn't be able to cast enough Bone Spears to survive late-game dungeons. The power of aspects and the cost of imprinting them onto rare items restricts how many times you can experiment with them unless you spend loads of time farming for gold and materials.
Right now, it would cost me 100,000 gold to reset my skills, and then I would have to spend more gold and rare materials from salvaging Legendary items to replace the aspects on my gear. It's not impossible to respec, but the cost of doing so almost feels like a punishment to keep me from easily swapping to a better build without engaging in all the new ways to grind for resources. All I want is for Diablo 4 to loosen up on the live service restrictions so that the joys of clicking demons in creative ways can truly flourish.
It's so close to channeling the progression-hungry energy that I need in a game about turning the legions of Hell into my precious loot crops.
If it weren't expensive to respec, you could theoretically change your build for every Nightmare Dungeon or Helltide event, trivializing activities meant to keep you playing longer. By punishing experimentation with costly fees for crafting items, altering items, and respeccing, Diablo 4 becomes a mountain to slowly climb, day by day. The limits on character progression erode my motivation to keep chasing better and better loot. I'd much rather try other classes than grind out the same events for slightly better versions of the same loot.
Diablo 4's seasons and battle pass promise to spice this typical action RPG loop up with unique enemies, events, and story quests to tackle. If it's like Diablo 3, each season could revitalize all of the dungeons and events you've seen before and will see again and incentivize you to try classes and builds you might not have otherwise. All I hope is that it leans into the unpredictability and risk that can fade away after you reach a certain power level and level of comfort with your character. Because underneath the messy campaign and oppressively sad world is a fascinating Diablo game with a malleable skill system, build-defining loot, and thrilling open world events.
Diablo 4's live service structure conflicts with the joy of building your character into a god—like you do by the end of the previous games—but it does leave it an opportunity for Blizzard to identify and embrace the game's best parts through seasons or future patches. Right now, most of those things sit at the latter half of the game and are restrained by resource scarcity and tight enemy level scaling. It's so close to channeling the progression-hungry energy that I need in a game about turning the legions of Hell into my precious loot crops. I need Diablo 4 to treat me like an adult who will rerun a dungeon 10 times for gear from the very start. I need it to encourage the kind of creativity its classes deserve. Because every second it doesn't, all its potential is wasted.
Diablo 4: Price Comparison
$7.99View
$20.48View
$29.81View
$31.49View
$32.31ViewShow More DealsWe check over 250 million products every day for the best pricespowered by