Need to know
What is it? An open world, post-apocalyptic survival horror game.
Expect to pay £40/$50
Developer Bend Studio
Publisher Sony
Reviewed on RTX 2080 Super, Intel i7-9700K, 16GB RAM
Multiplayer None
Link Official site (opens in new tab)
$21.25 (opens in new tab)View at Green Man Gaming (opens in new tab)$39.99 (opens in new tab)View at Best Buy (opens in new tab)Check Amazon (opens in new tab)167 Amazon customer reviews (opens in new tab)☆☆☆☆☆
An outlaw biker drifting through a Pacific Northwestern post-apocalypse is a killer premise, and Days Gone occasionally lives up to it. When you're alone on the broken road, riding your scrappy motorcycle between missions, it's easy to get swept up in the apocalyptic romanticism of it all. It's just you, your bike, and an unforgiving land. No job, no bills—just two wheels, a thirsty gas tank, and all the time in the (end of the) world.
You play as Deacon St. John, a young Oregon biker who wears a backwards baseball cap at all times—even at his wedding. Two years after a mysterious outbreak has turned half the population of America into zombie-like cannibals called freakers, Deacon embarks on a quest to find his missing wife, Sarah. There are other stories too, including discovering the truth about the pandemic—because there's always a truth behind these things. But it's reuniting with his beloved spouse that really drives our anti-hero.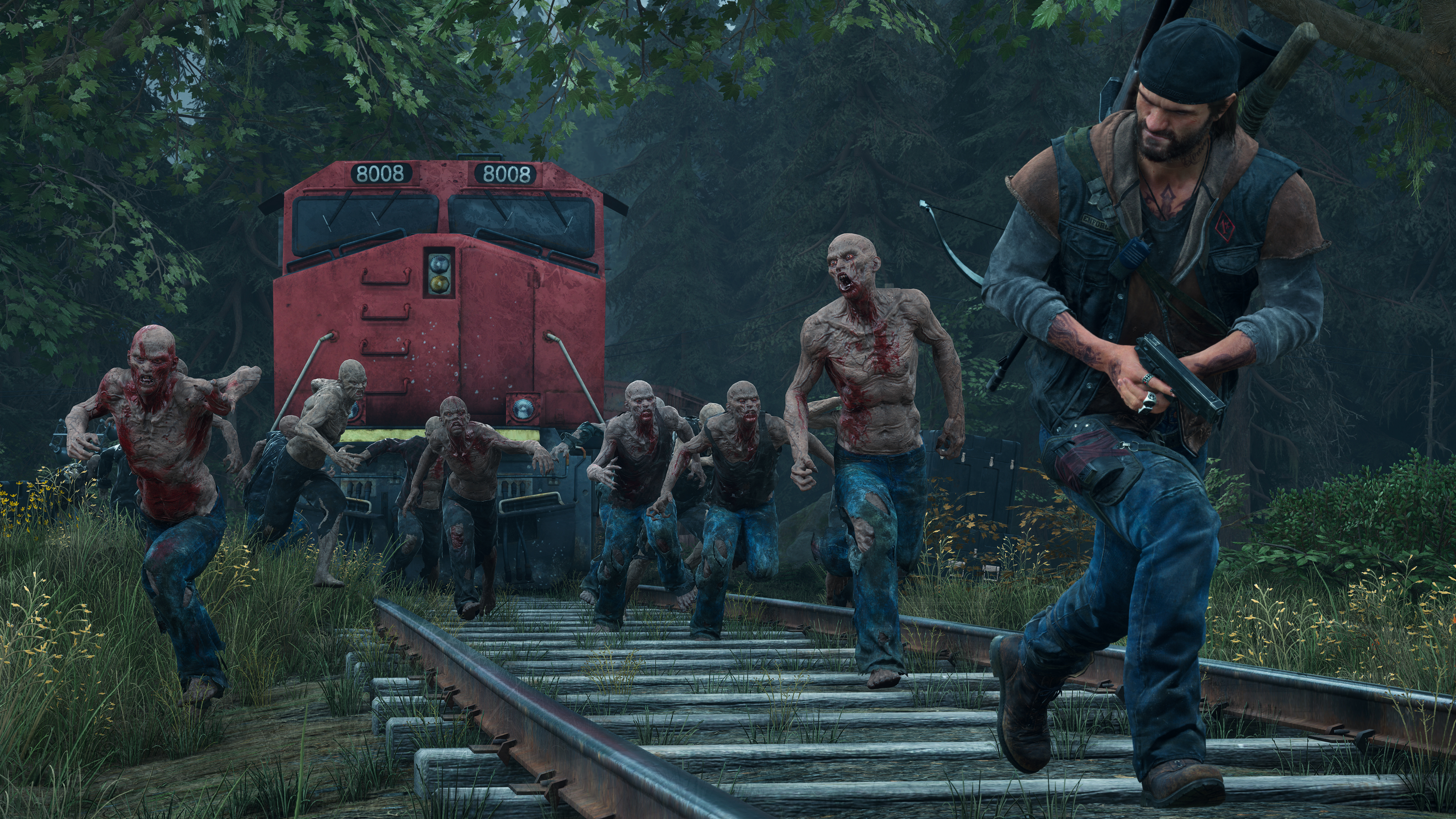 (Image credit: Bend Studio)
But hey, the PC version is pretty good. With an RTX 2080 Super and an i7-9700K, I was able to play in 1440p at max settings with a completely stable frame rate—even with hundreds of freakers filling the screen. I had to knock a few settings down for a smooth experience in 4K, but nothing that majorly affected the quality of the image. It is, however, missing a few things we've come to expect from modern PC games—namely DLSS and raytracing. It's a pretty game, but it won't make a high-end graphics card sweat.
Days Gone is a fun post-apocalyptic road trip simulator, but the things it does well are ultimately overwhelmed by the dreary story, repetitive missions, sluggish controls, and lifeless world. It's great seeing more PlayStation exclusives coming to PC, and long may that continue. But if Days Gone hadn't made the transition, I don't think it would have been a great loss for the platform. Look, just play Avalanche's Mad Max (opens in new tab) game from 2015 instead. It does everything Days Gone does, but with a sense of humour, a wasteland that's actually worth exploring, and you get to be the road warrior Max Rockatansky instead of a sad, mumbling biker in a backwards baseball cap.
TODAY'S BEST DEALS$21.25 (opens in new tab)at Green Man Gaming (opens in new tab)$39.99 (opens in new tab)at Best Buy (opens in new tab)Check Amazon (opens in new tab)