Need to know
What is it? 64-player medieval warfare with melee weapons, bows, and big set pieces
Expect to pay: $40
Developer: Torn Banner Studios
Publisher: Tripwire Interactive
Reviewed on: Intel Core i5-9600K, 16GB RAM, Nvidia RTX 2070 Super
Multiplayer? 40-to-64-player team and free-for-all modes; console crossplay
Link: chivalry2.com (opens in new tab)
Check Amazon (opens in new tab)
Chivalry 2 is some of the most fun you can have on PC right now. It's a riveting, theatrical medieval warfare game that's equally about martial arts mastery and roleplaying as a Middle Ages buffoon. Sometimes you spend 30 intense seconds expertly dueling another player with swords, other times you're skewered by a ballista bolt while shaking a fish in the air and declaring that you're "power incarnate." 
At the center of Chivalry 2 are 64-player team objective-based matches. These are multi-stage battles that see castles sieged with rolling towers and ladders, peasants slaughtered, and caravans ambushed. They all start roughly the same way: both teams lined up and sprinting at each other with swords, axes, polearms, maces, bows, and more. My approach to these charges is to smash the 'yell' key to howl stupidly, throw my shield into the mass of bodies in front of me, chuck my sword at them, too, and then meet them with hacks from my secondary axe. If I'm lucky, I break through the line and chase down the cowardly archers who stopped running 50 yards short of the fight. Usually, someone chops my head off first.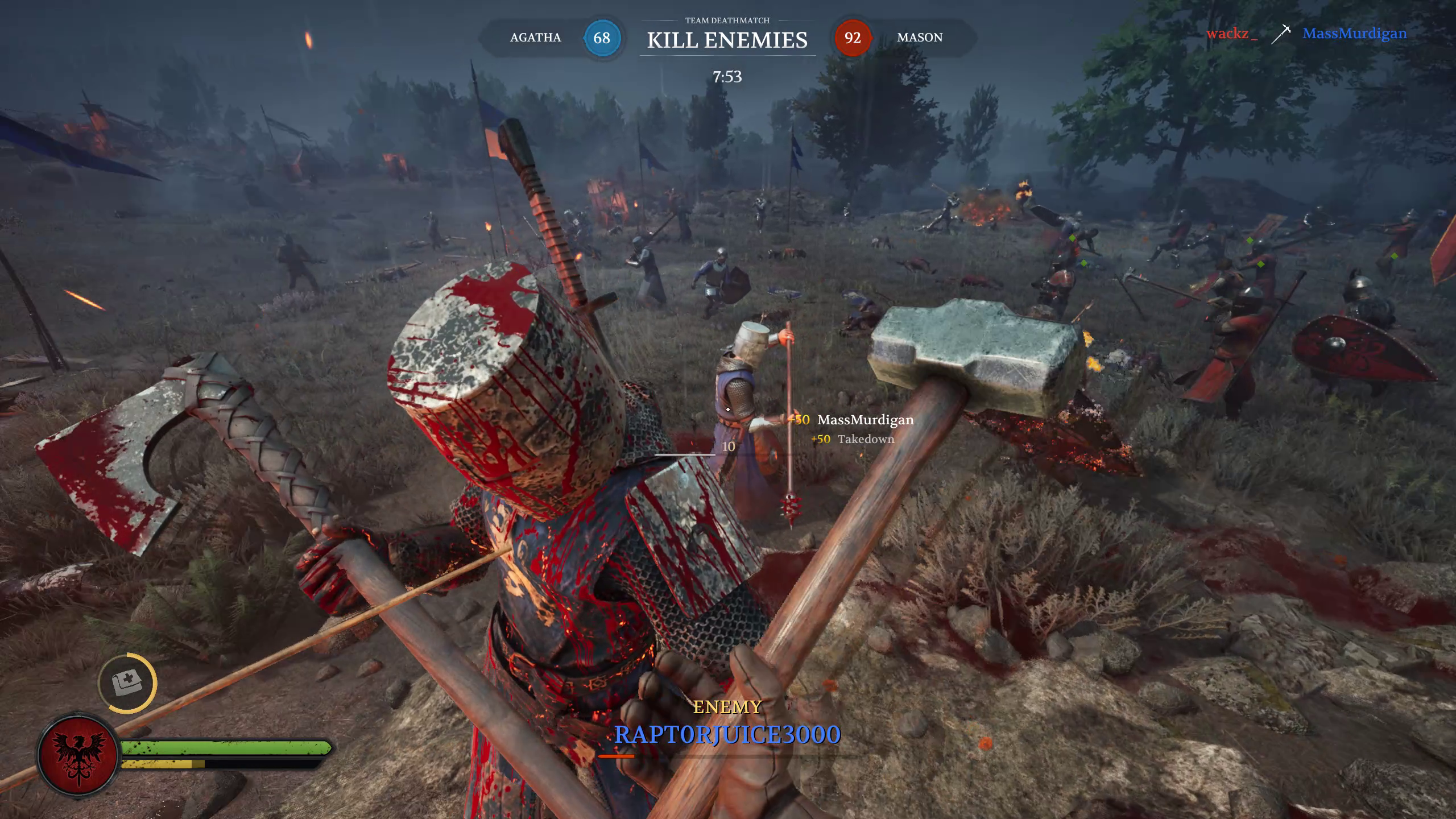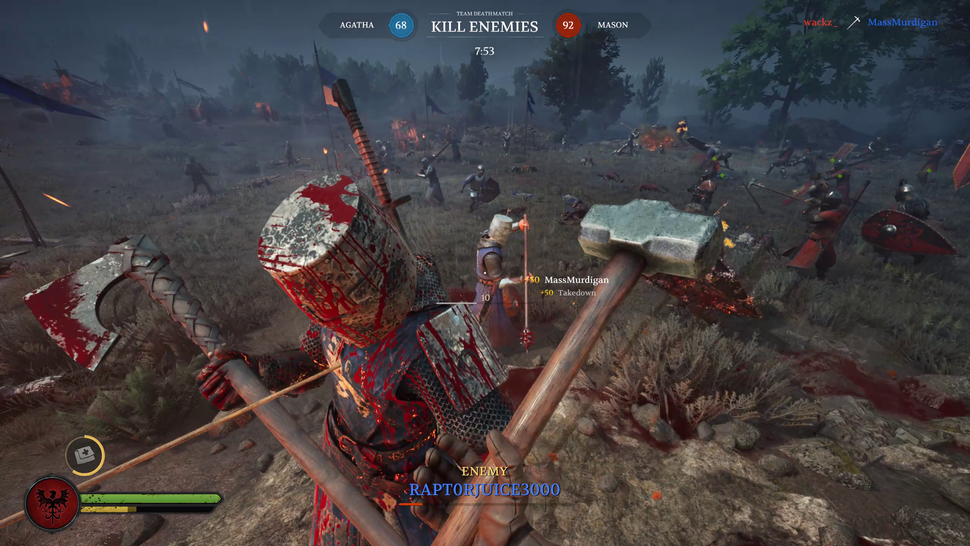 (Image credit: Torn Banner Studios/Tripwire Entertainment)
Chivalry 2 launched with six objective maps and two deathmatch maps, so the first content update will bring it to 10 maps total—not a huge number, but it's still nice that the post-launch stuff is free. The only in-game purchase you can make right now is a currency that lets you unlock cosmetic items faster than you would by playing. The soldier customization is surprisingly detailed, but it hasn't been a draw for me, in part because I play in first-person and so I don't see myself much. 
The weapon unlocks (which have to be earned) increase your loadout options at a reasonable pace. It's a fine way to provide milestones for newcomers, but I like playing Chivalry 2 because it's fun to win fights or come up with stupid roleplaying ideas, not because I am driven to unlock more stuff. It's a novel idea, games that are fun regardless of how much stuff you can collect, but I think it could catch on.
TODAY'S BEST DEALSCheck Amazon (opens in new tab)