Need to know
What is it? A standalone version of a Thieves Guild questline from an imaginary Elder Scrolls game.
Expect to pay: £12.99/$15.99
Developer: Four Circle Interactive
Publisher: Fireshine Games
Release date: Out now
Reviewed on: Windows 10, AMD Ryzen 5 5600X Six Core CPU, 16GB RAM, Nvidia Geforce RTX 3060
Multiplayer? No
Link: Steam page (opens in new tab) 
Check Amazon (opens in new tab)
In the dead of night, a local busybody comes straight to the door of your flat with gossip. Evidently, there's no Facebook in Abermore. "The puddle's back," he says. This pool of liquid sits on the city's thoroughfares, apparently, and looks normal enough at a glance. But when carriages pass through, it doesn't splash. And while reflective, it never shows an image. Residents suspect it's fathoms deep. Oh: and that anything falling in turns to metal.
"Transports itself across the city, coming and going as it pleases," says the busybody. "It's a small patch of wrong."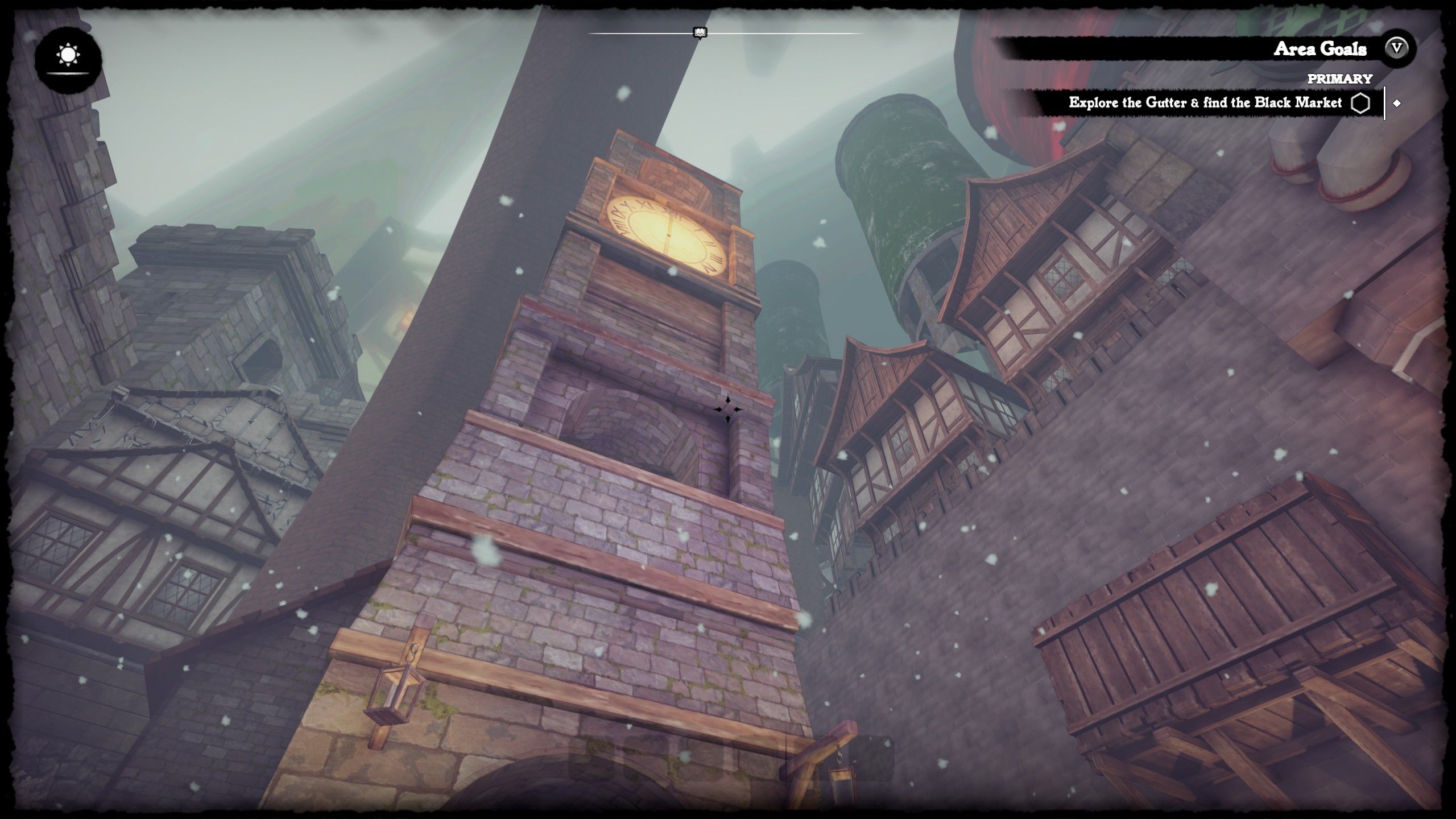 (Image credit: Four Circle Interactive)
Over time, I learned to circumvent not just butlers and cameras but Abermore's many flaws, and found myself half-enjoying the game it could have been. But there's simply no way to recommend an experience that might include falling through the floor, or getting stuck on a broken dialogue screen that forces you to replay an entire day of hub conversations and inventory management. Not even when that dialogue is goofily good-natured, showcasing clammy vampires, open-carry swordsmen, and overexcited scientists stuck in quicksand. And not even when that hub is beautifully accompanied by church bells and a tailor who operates his sewing machine in time to stabs from the soundtrack's pipe organ.
I still want to belong to this psychotically daft twilight world, where the fence lets out an admiring "hooo!" as you slide a particularly big gem across the table, like a host on Antiques Roadshow. But the puddles are too many, and they're fathoms deep.
Disclosure: Former PC Gamer Deputy Editor Philippa Warr contributed to Abermore. 
TODAY'S BEST DEALSCheck Amazon (opens in new tab)